SHOP THE POST
 SWISSGEAR Toiletry Kit  //  SWISSGEAR 24″ Luggage  //  SWISSGEAR Luggage Tag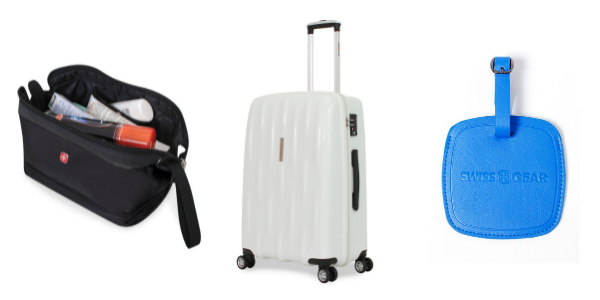 ---
Travel Like a Pro With SWISSGEAR

One minute I'm complaining about the heat and the next I'm crying about summer almost being over.  This time of the season always feels like a roller coaster of feelings but rather than letting it get the best of us, why not celebrate the last days of sun, warmth, and days off with one last trip before we head back to reality!  You see for me, half the fun of going somewhere is getting there, and it all starts with the packing!  I've partnered with SWISSGEAR to show you how I pack for a last minute getaway and challenge you to make the most of these last days of summer with your own getaway!
As a blogger, most of my work intersects with my play so although a fun beach getaway can be a vacation, the work never truly stops!  That said, packing for a vacation a lot of times looks the same as packing for work.  No matter what the purpose of your travels, organization is key!  Here I packed my bags for a short 4 day trip to the Hamptons and chose SWISSGEAR's 24″ hardshell roller because it's the perfect medium size to hold all my necessities.  The large zippered divider allows me to separate items in my suitcase for more efficient packing.  Bulky items like shoes, hats, and toiletries stay on one side, while folded clothes stay on the other.  When it comes to toiletries, I love SWISSGEAR's toiletry bag.  The large top zippered compartment opens up and folds down to the sides so it's easy to see everything you've packed, while the bottom compartment contains reusable TSA approved carry-on containers organized neatly by themselves.  And because it's not just about function, I added a pop of color to my glossy white roller luggage with SWISSGEAR's jumbo luggage tag.  You'll never miss your suitcase on the luggage belt again with a bright blue accent like this!
So now that you've seen how I pack and where I'm going, I wanna hear your plans for one last summer getaway!  Share it on social media using the hashtag #swissgear so I can check it out!
---
SHOP THE POST
 SWISSGEAR Toiletry Kit  //  SWISSGEAR 24″ Luggage  //  SWISSGEAR Luggage Tag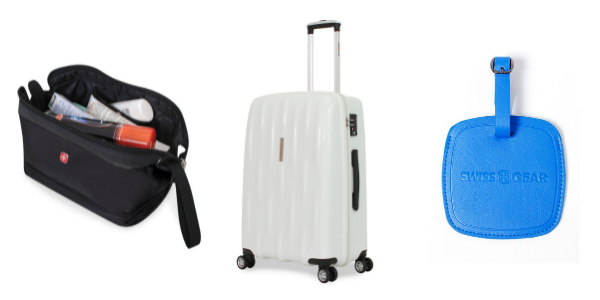 Disclosure: Thanks to SWISSGEAR for partnering on this post.  As always, all views and opinions expressed here are my own and do not necessarily reflect the views of SWISSGEAR and its affiliates.