My Experience With Hostelworld In Iceland
Fun fact:  I backpacked around the world to 11 countries in 78 days when I was 25.  And aside from all the sights and cultures I experienced, another amazing thing I gained from the trip was the experience of meeting other travelers from all over the world and hearing their stories at each hostel I stayed at.  You see at hostels there's a uniquely open and inviting social atmosphere.  Common spaces with their cafes, bars, games, and books are designed with congregating in mind.  I'd often meet people in the lobby playing board games or talking about their day's adventures.  It was a great spot to pick up travel tips, or even make new friends and find people to go out with.  It's since been a while since I've stayed at a hostel, but luckily I got the chance to relive that experience again on this trip to Iceland!
For our trip to Iceland, Spencer and I partnered with Hostelworld for accommodations in Reykjavik.  Sure there's always a difference between hostel and hotel, but for this trip we got everything we needed and then some in a hostel!  Since we knew we'd be spending a lot of time driving around the country to see the sights, super luxury accommodations were not high on our priority list compared to say…seeing the Northern Lights (which we did! yay!).  A hostel seemed like the perfect solution for a comfortable, economical place to stay, and we were pleased to discover that both hostels exceeded all our expectations!
---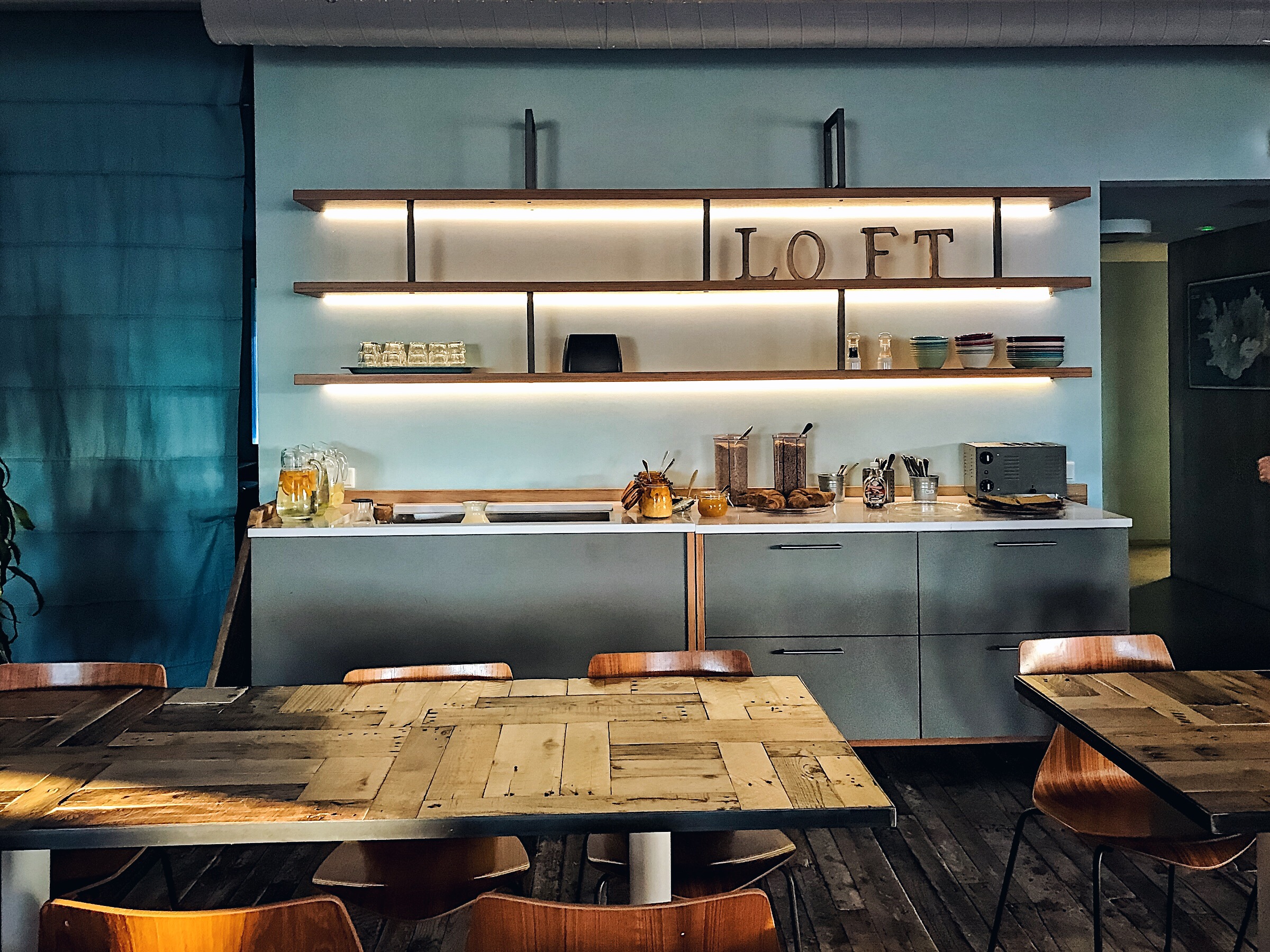 We spent our first night at LOFT Hostel in Reykjavik.  It's a quick 45 minute drive from the airport, and although there's no designated parking, there's an affordable parking garage a block behind the hostel which was super convenient for loading/unloading luggage (I had a lot haha).  The entry felt very secure (one thing I always look for when searching for a hostel…although Iceland is one of the world's safest countries).  An interior elevator from the main street building leads you up to reception on the 4th floor where someone remains at the front desk 24/7.   The definite draw of this hostel for me was it's central location.  It's located in a busy shopping and entertainment area close to a lot of great restaurants and bars, and it's only about a 10 minute walk to the Hallgrímskirkja church.
Our Room
Our room was a private bedroom with an ensuite bathroom.  It was cozy and well-lit from an interior light well and the bunkbed gave us more space since it allowed us to store our belongings on the upper bed while we slept on the lower full size bed.  The bathroom was tidy and they provided you with soap and towels so we didn't have to pack our own.  You could also borrow a hair dryer from the front desk which was very convenient since I hate bringing my own when I travel to save luggage space.  The bed was comfortable and the room was quiet since it was in the interior of the building.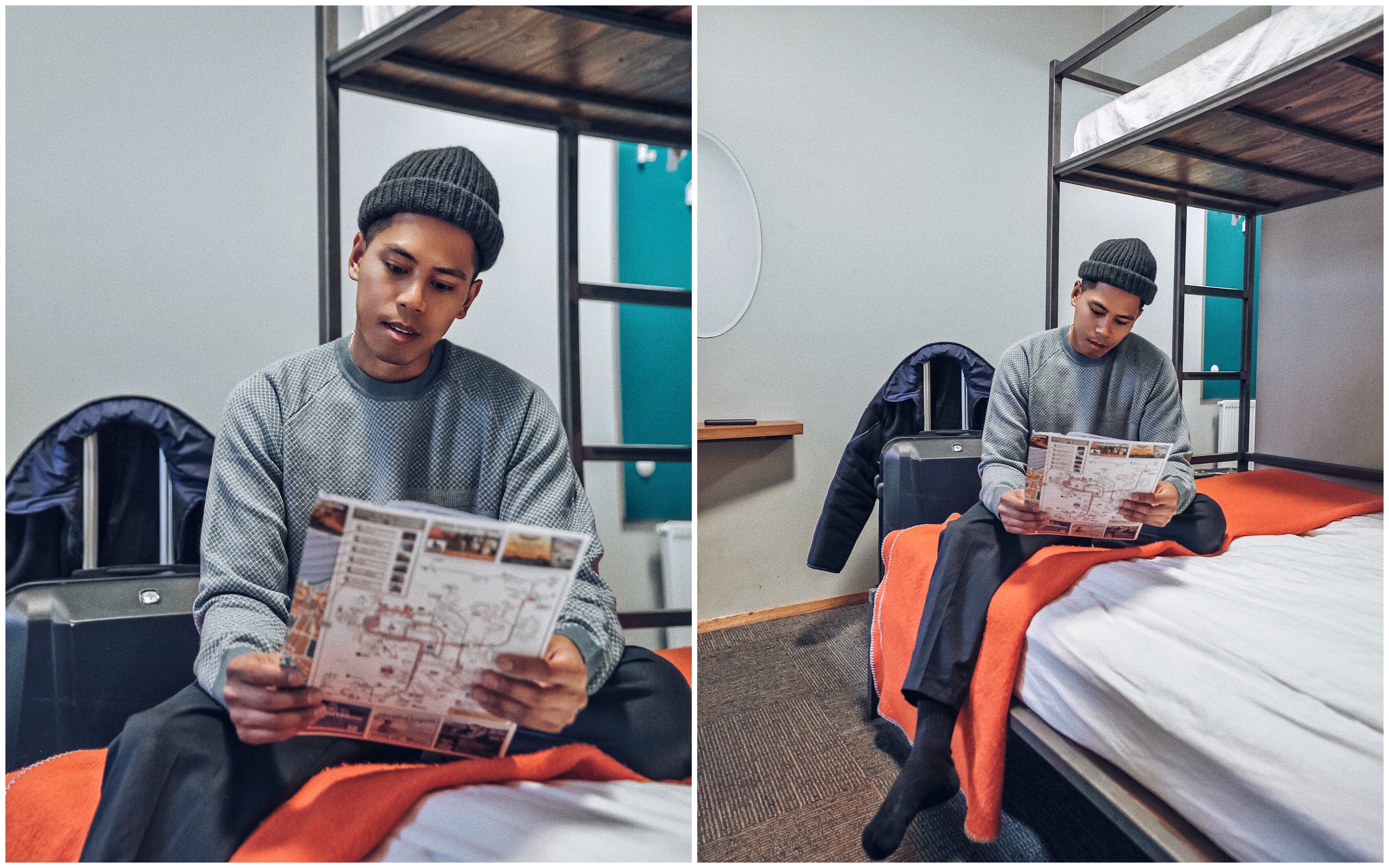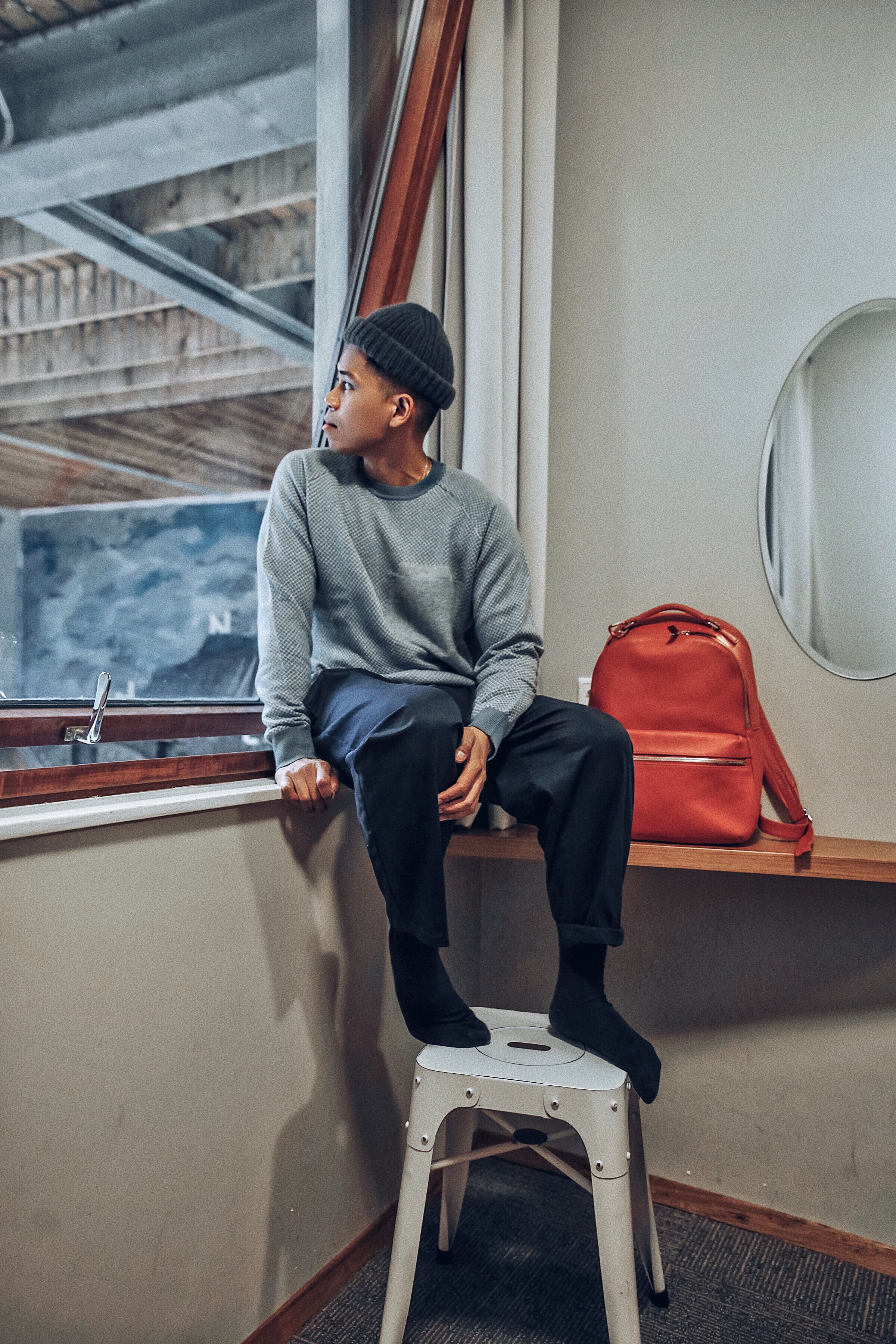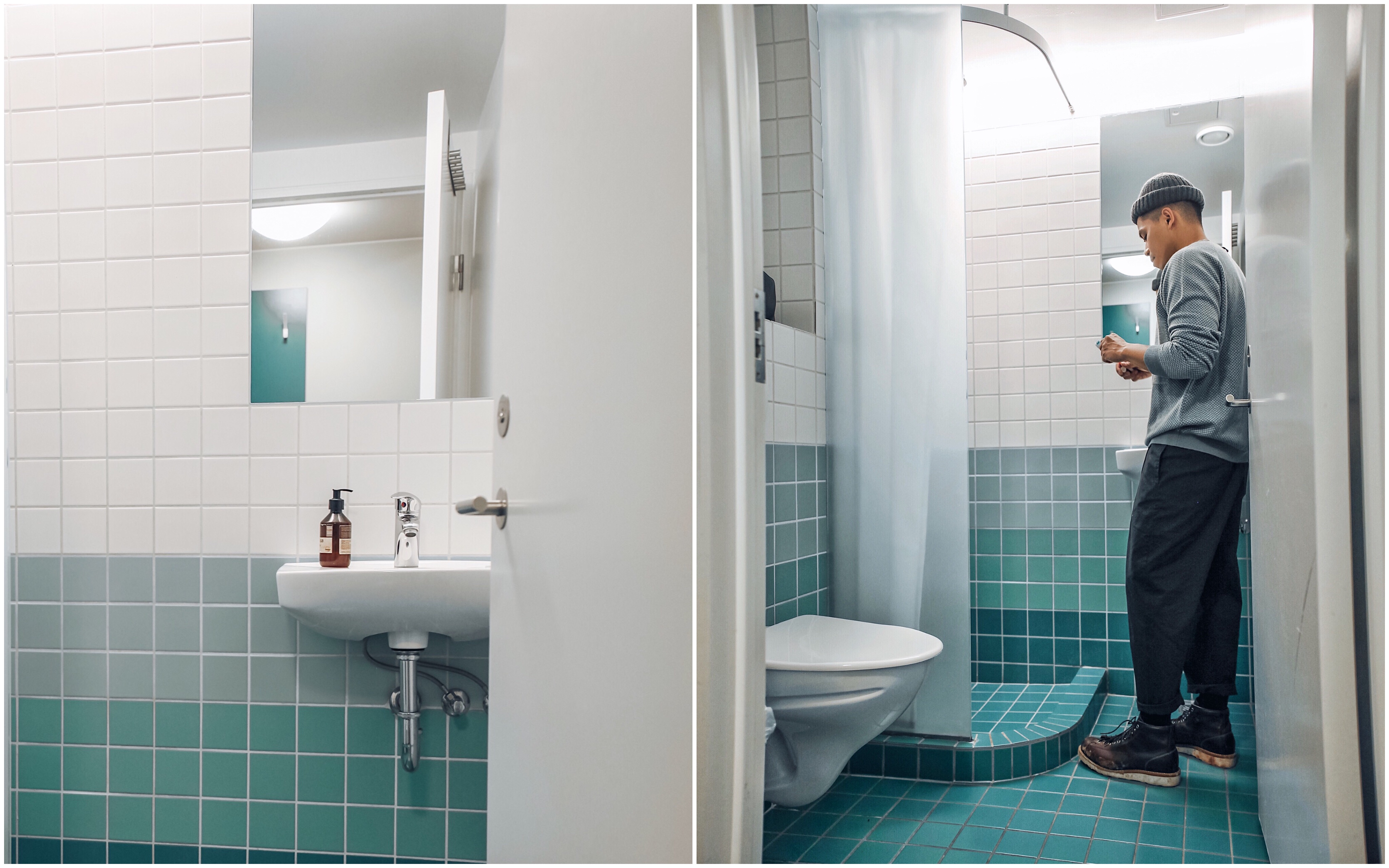 Common Spaces
All the common spaces were on the fourth floor reception floor.  There's a foozeball table, cafe seating, a full cafe and liquor bar, dining tables, a stage, and a guest kitchen.  There's also an outdoor roof deck which has great views of Reykjavik and the hostel serves breakfast everyday in the dining area from 7-10 AM.  The breakfast included coffee, fruit juices, water, bread/pastries, deli meats & cheeses, and fresh fruits – everything you need for a light meal before heading out to explore.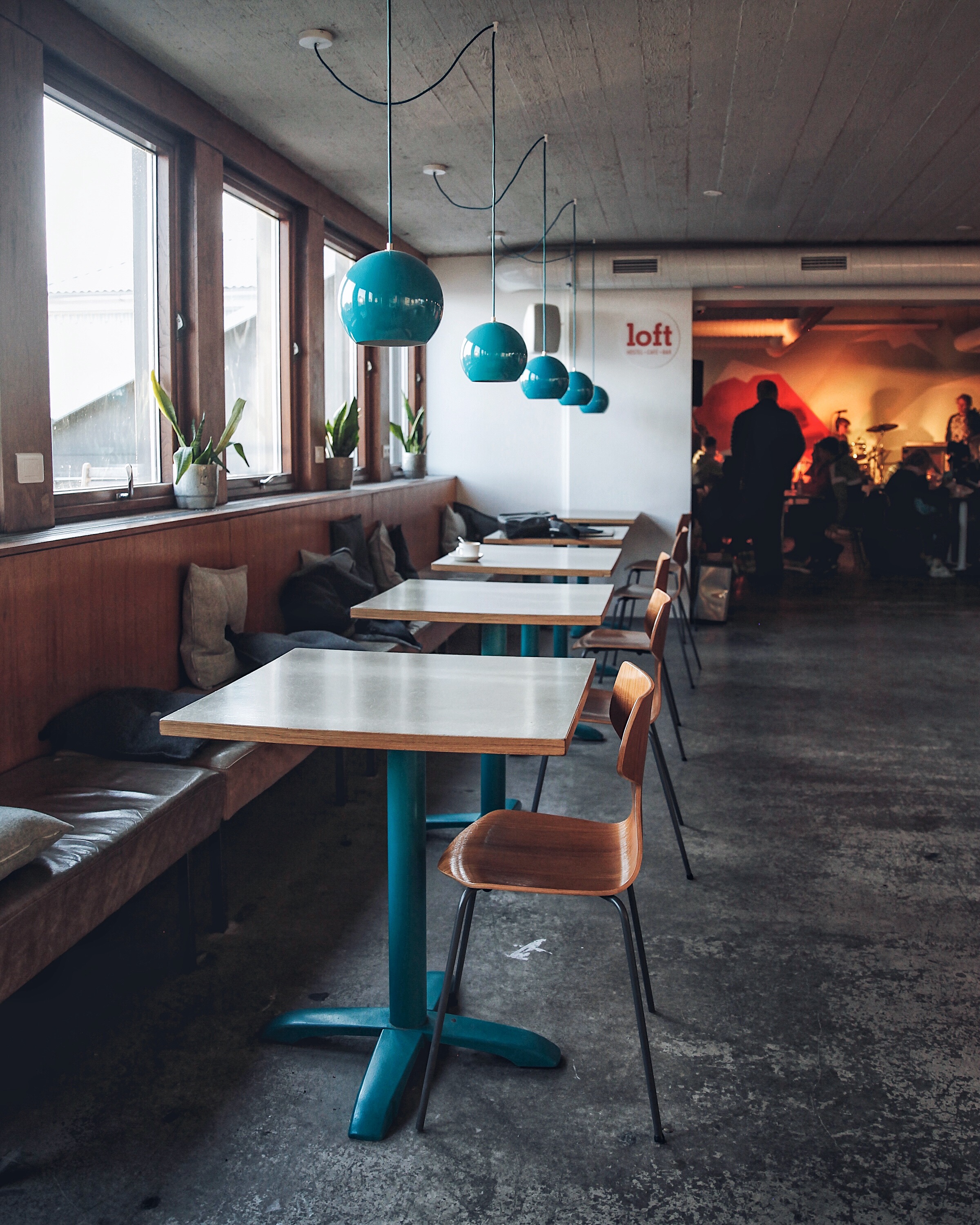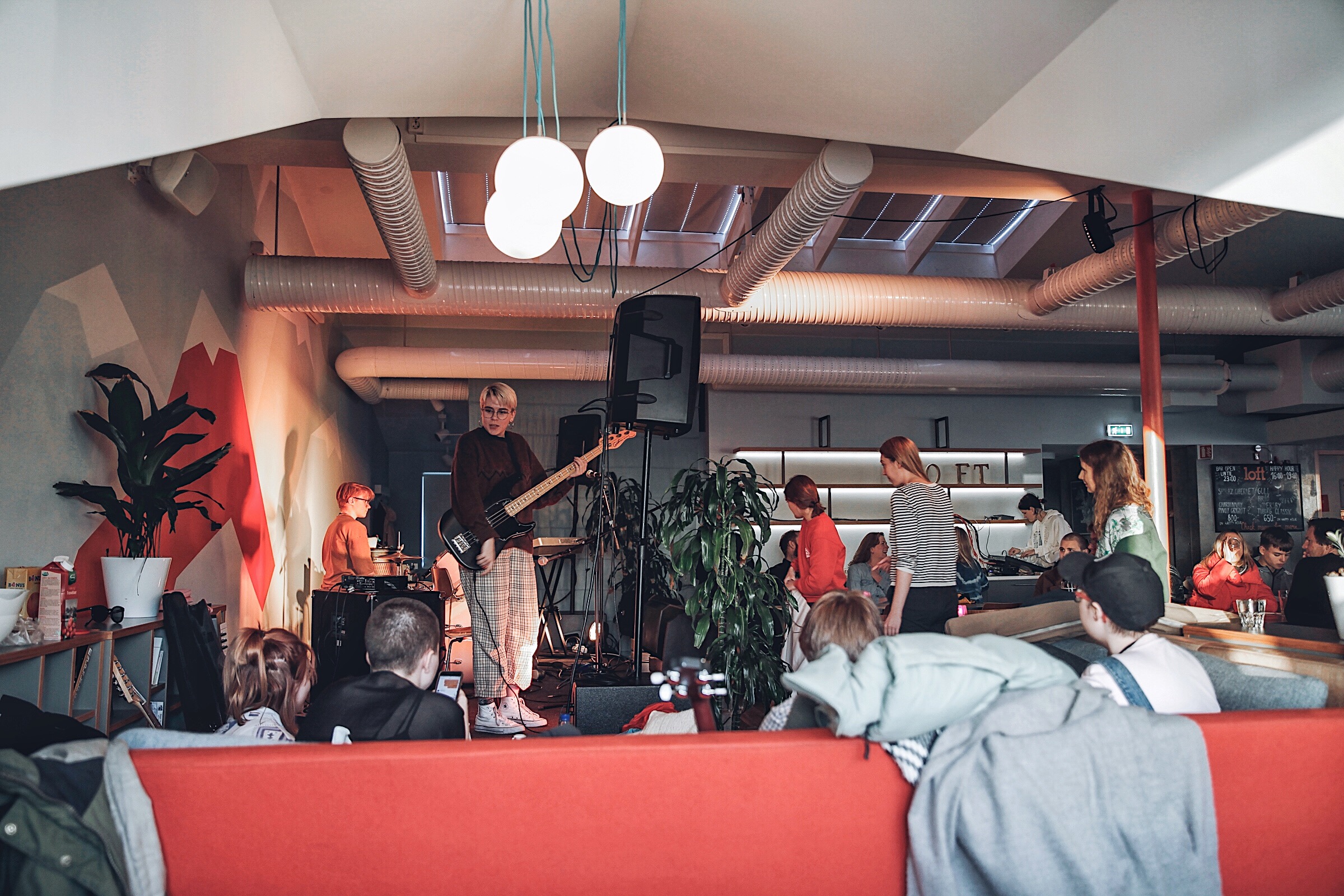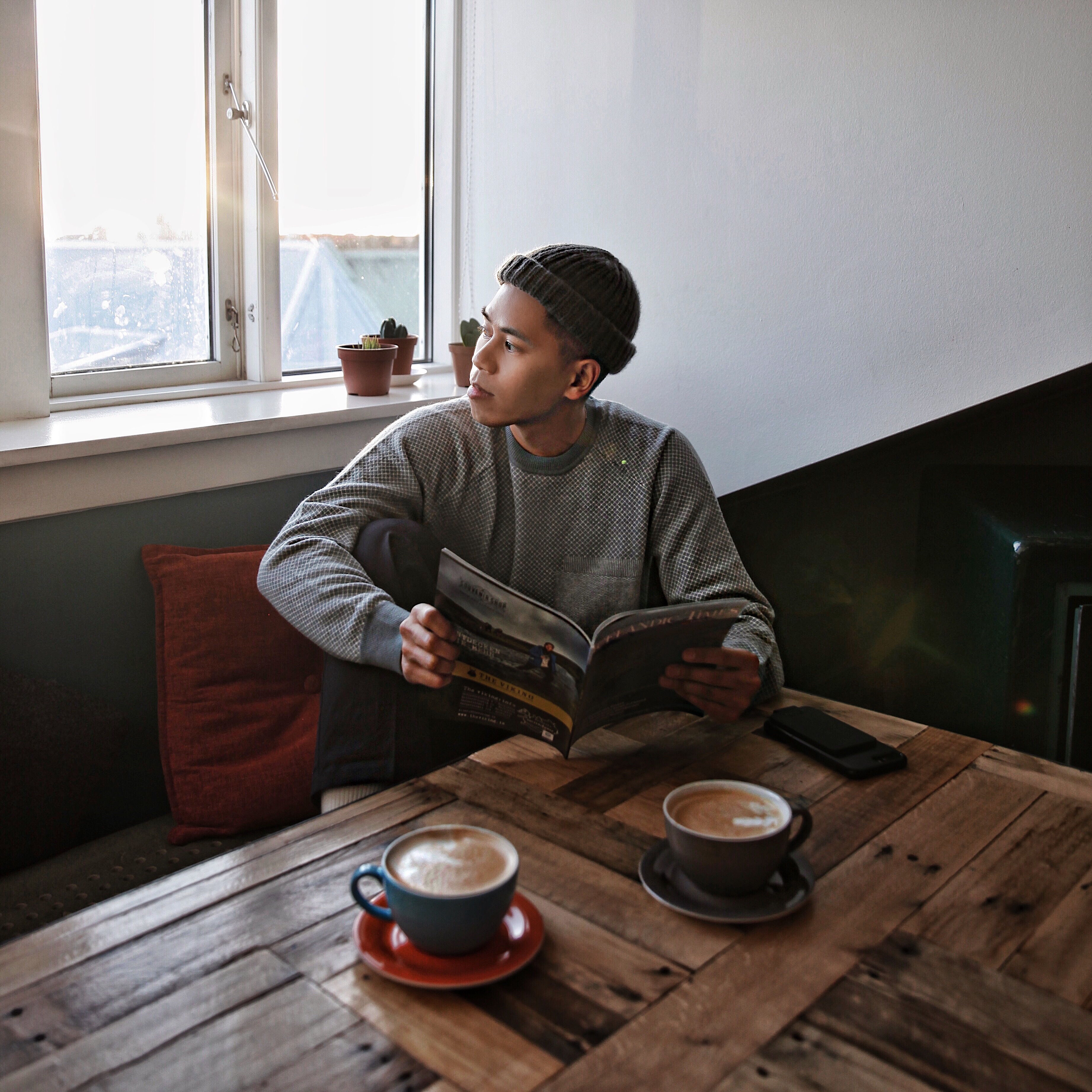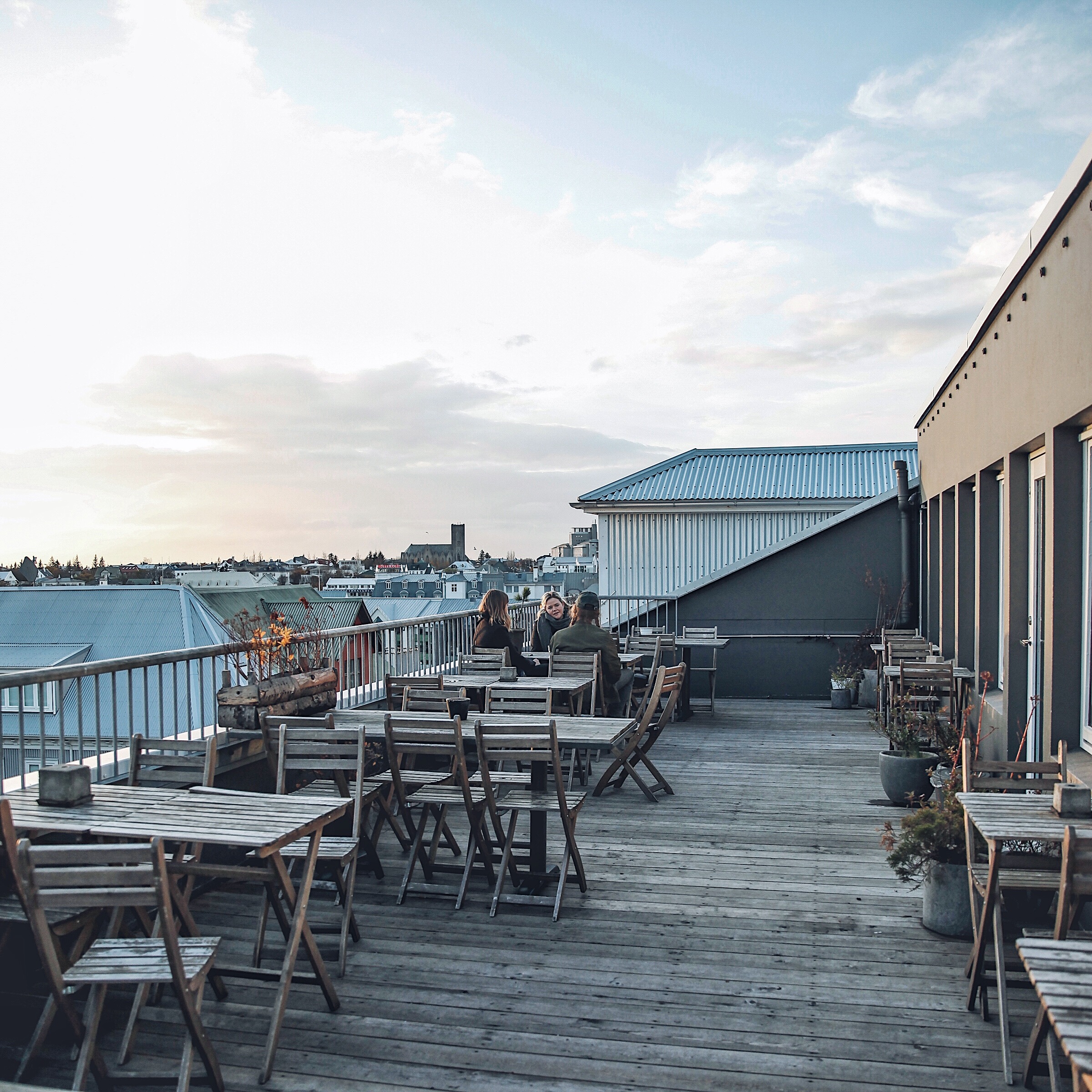 ·
---
·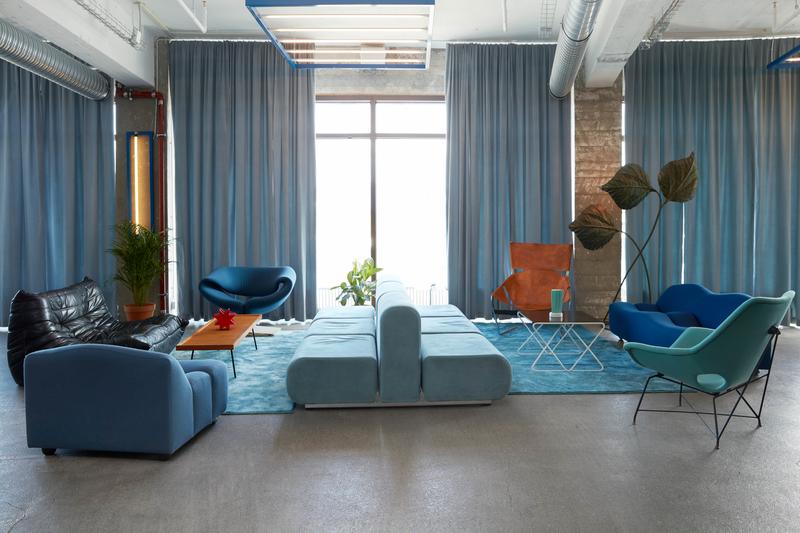 The second hostel we stayed at was the Oddsson.  This hostel was unique in that it offers 6 hotel rooms in addition to all their other hostel rooms.  The location was a little further west of the downtown area but right on the water.  There was ample free parking in the parking lots in front and behind the building, and we never had trouble finding a spot each night when we got back from our day trips.  Across the street was a supermarket which was really convenient for stocking up on snacks for our long car rides, and there were also a few restaurants/cafes on the same block as the hotel.  We were able to walk to the downtown area of Reykjavik in about 20 minutes but I'd recommend bundling up because it does get cold by the water.
Our Room
Luckily for us, Hostelworld hooked us up with one of the 6 hotel rooms.  Not only that, but they gave us an ocean-view room which was a nice treat to wake up to.  The room was spacious and could fit a queen bed, desk, and armoir so we had plenty of room for all our luggage.  We also had an ensuite bathroom stocked with towels, toiletries, and a hair dryer.  And because this was a hotel room, the room was cleaned and linens replaced every day.  The decor was bright and playful.  I personally loved the blue all over since blue is my favorite color. =)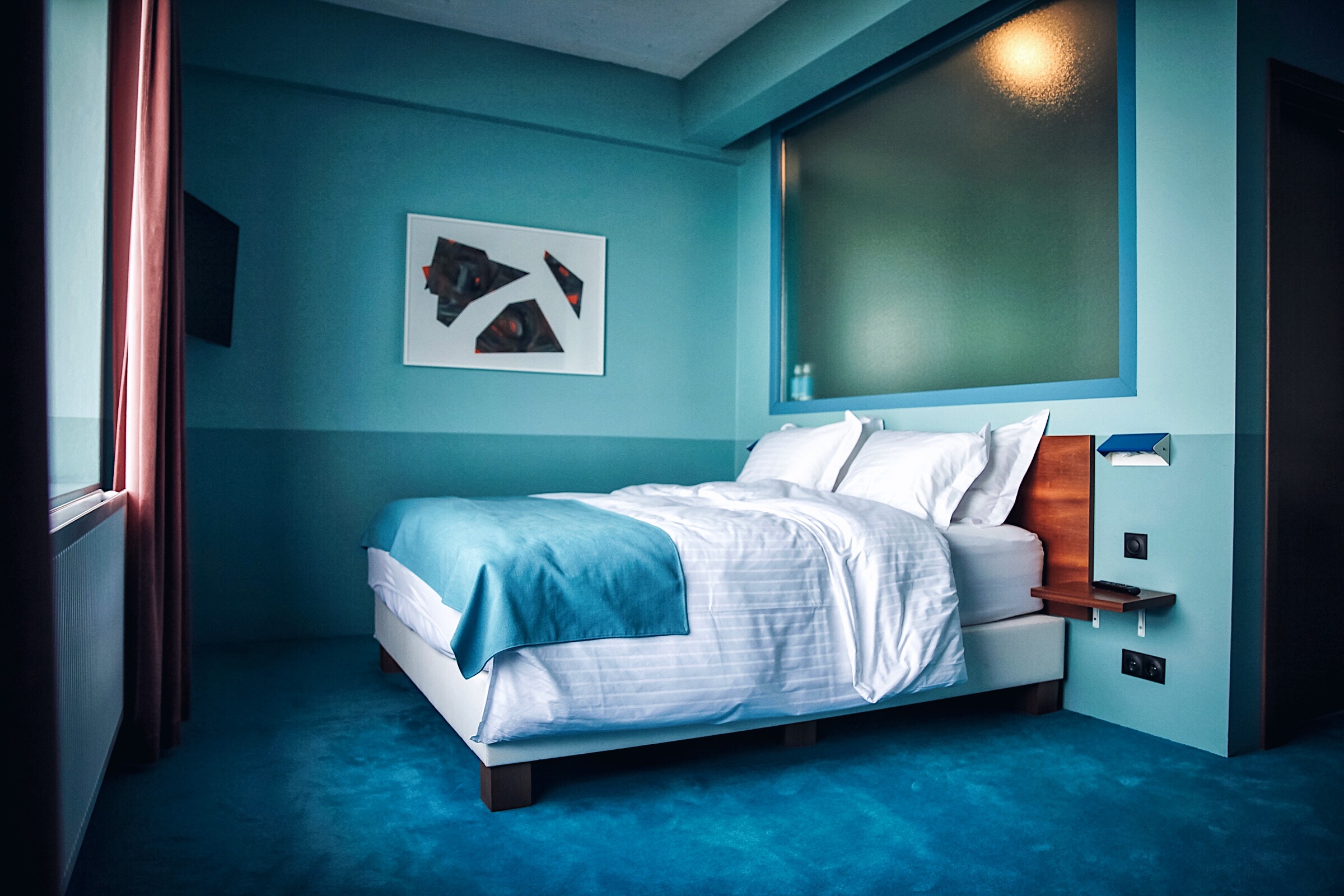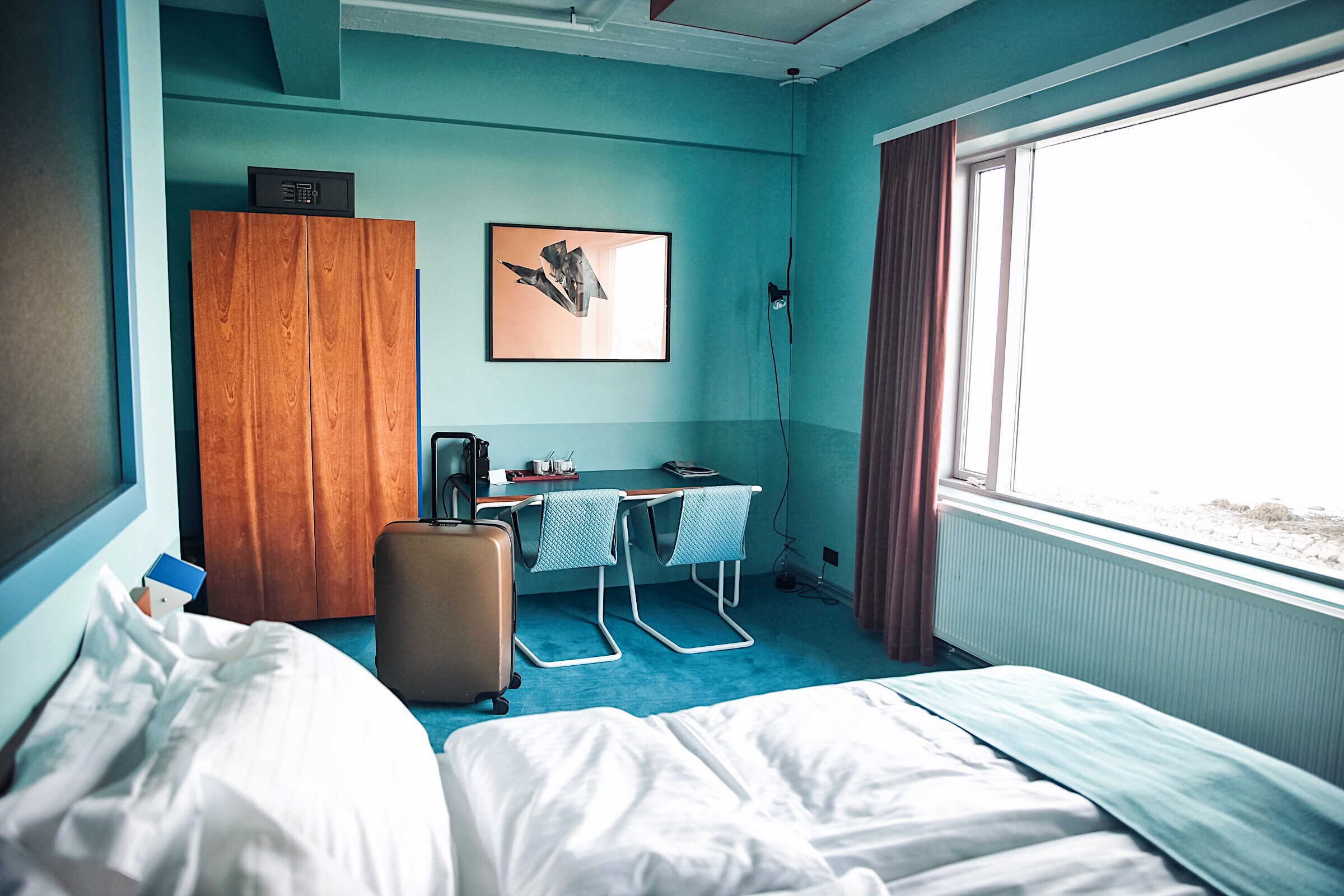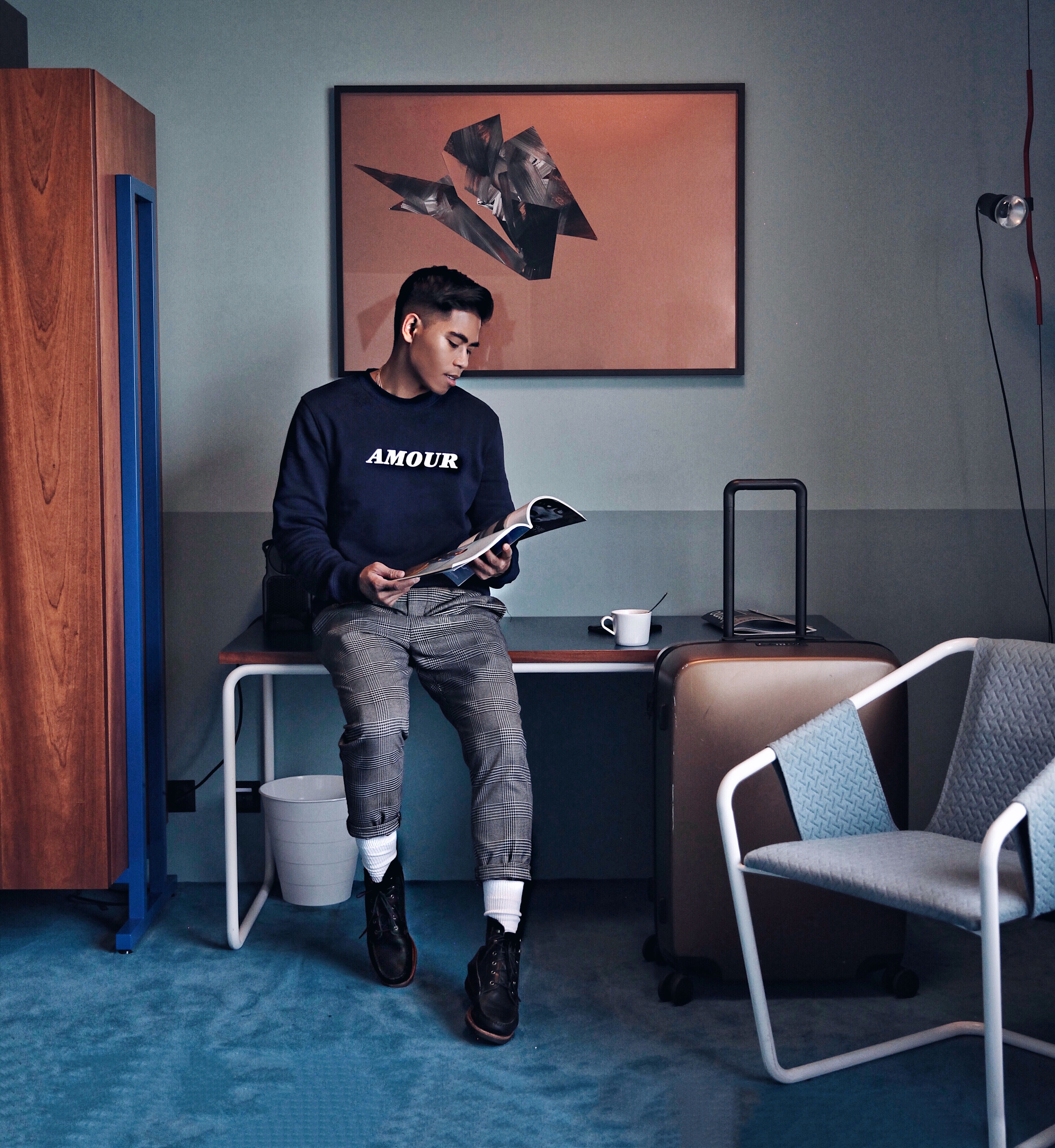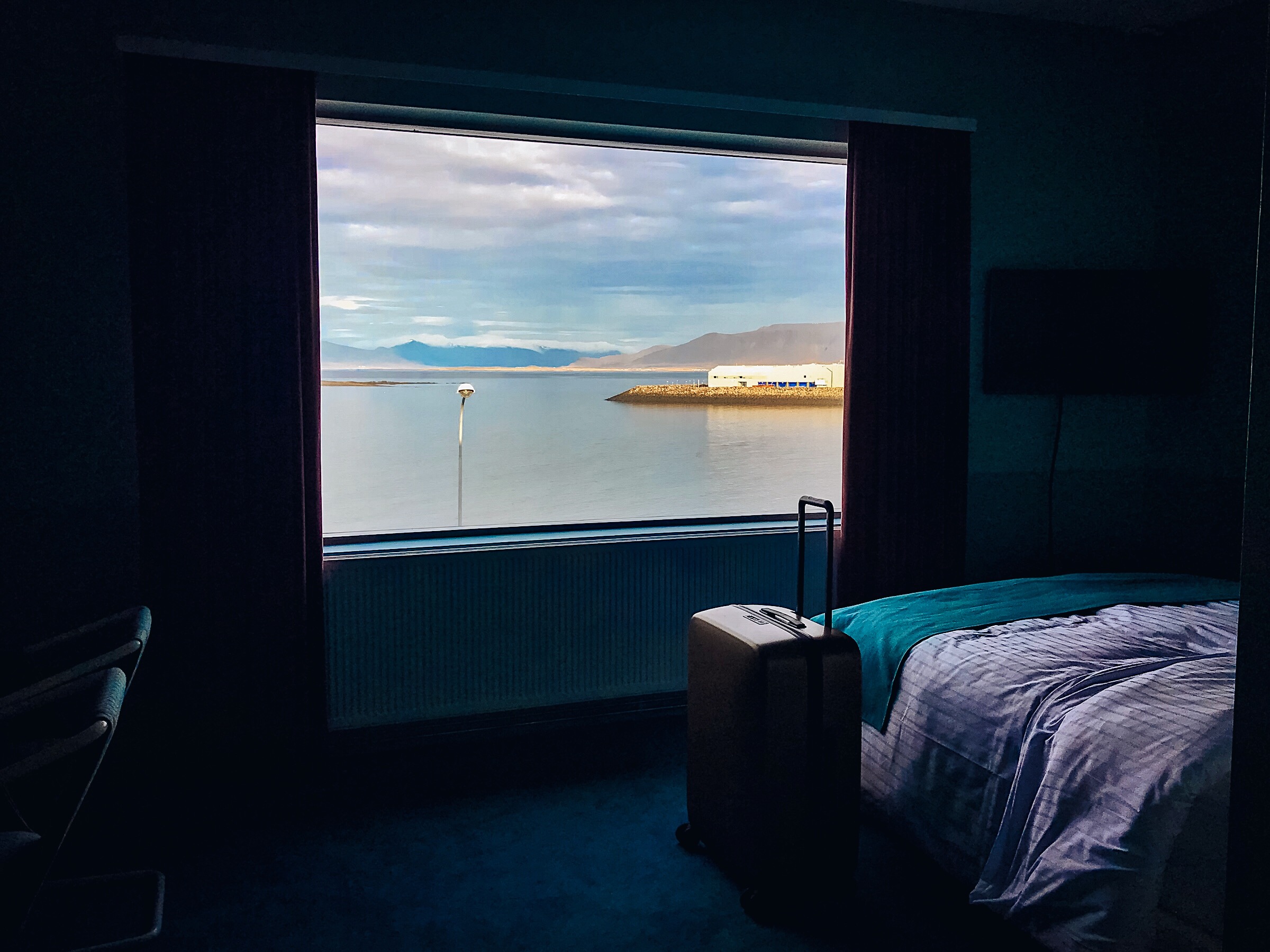 Common Spaces
The common areas at the Oddsson was definitely the main draw of this hostel for me.  On the 24/7 reception floor on the ground level there was a lobby/sitting area, a full bar area, and a full restaurant.  The restaurant served breakfast every morning from 7-10 AM.  It was similar to the last hostel with a breakfast of coffee, tea, water, juices, deli meats & cheese, breads and pastries, as well as oatmeal and granola.  There were always groups of people in the lobby and bar areas at all times so it was good for socializing.  There's also a karaoke room by the bar and some outdoor patio seating that's part of the restaurant.
On the fourth floor there was a yoga room with instructors teaching free classes on certain days.  There was also a guest kitchen and lounge with a full stove where guests could prepare their own meals.  From the kitchen there was an entrance to a cozy outdoor terrace with plenty of seating.  Overall, there were plenty of common spaces at the Oddsson so you could do way more than just sleep when you got back to the hostel.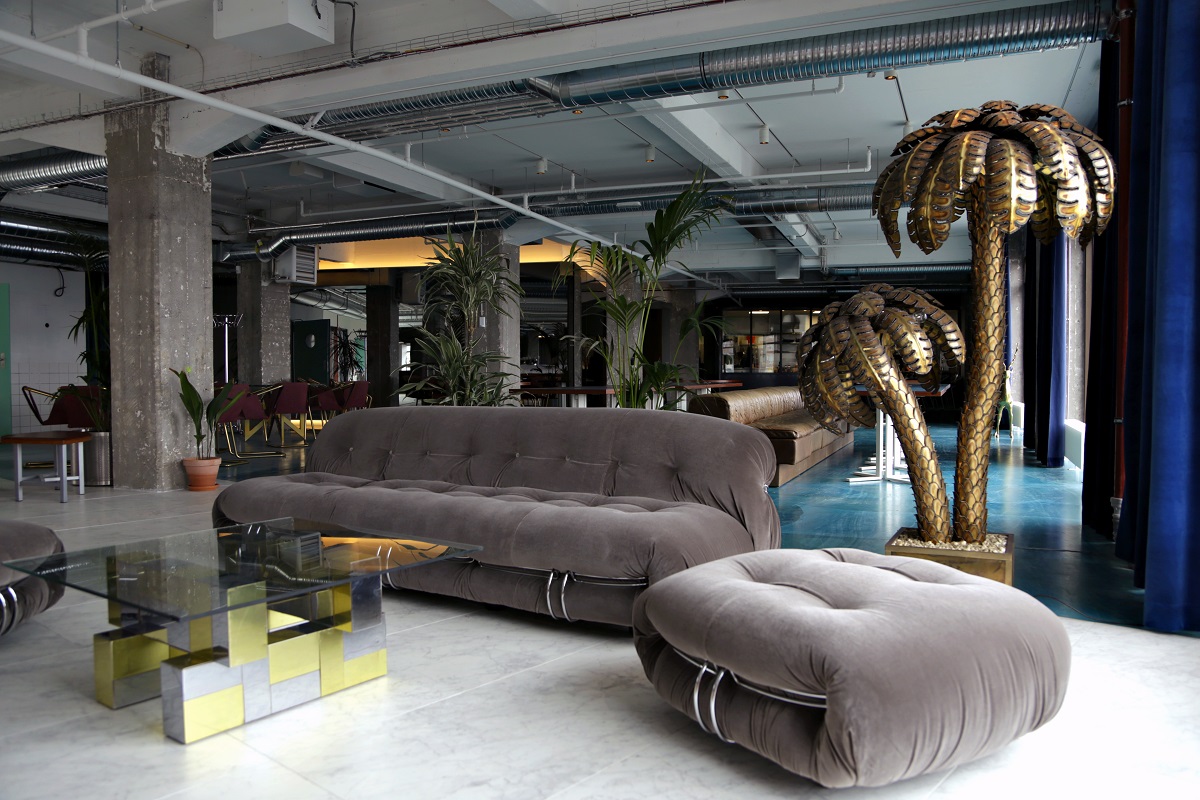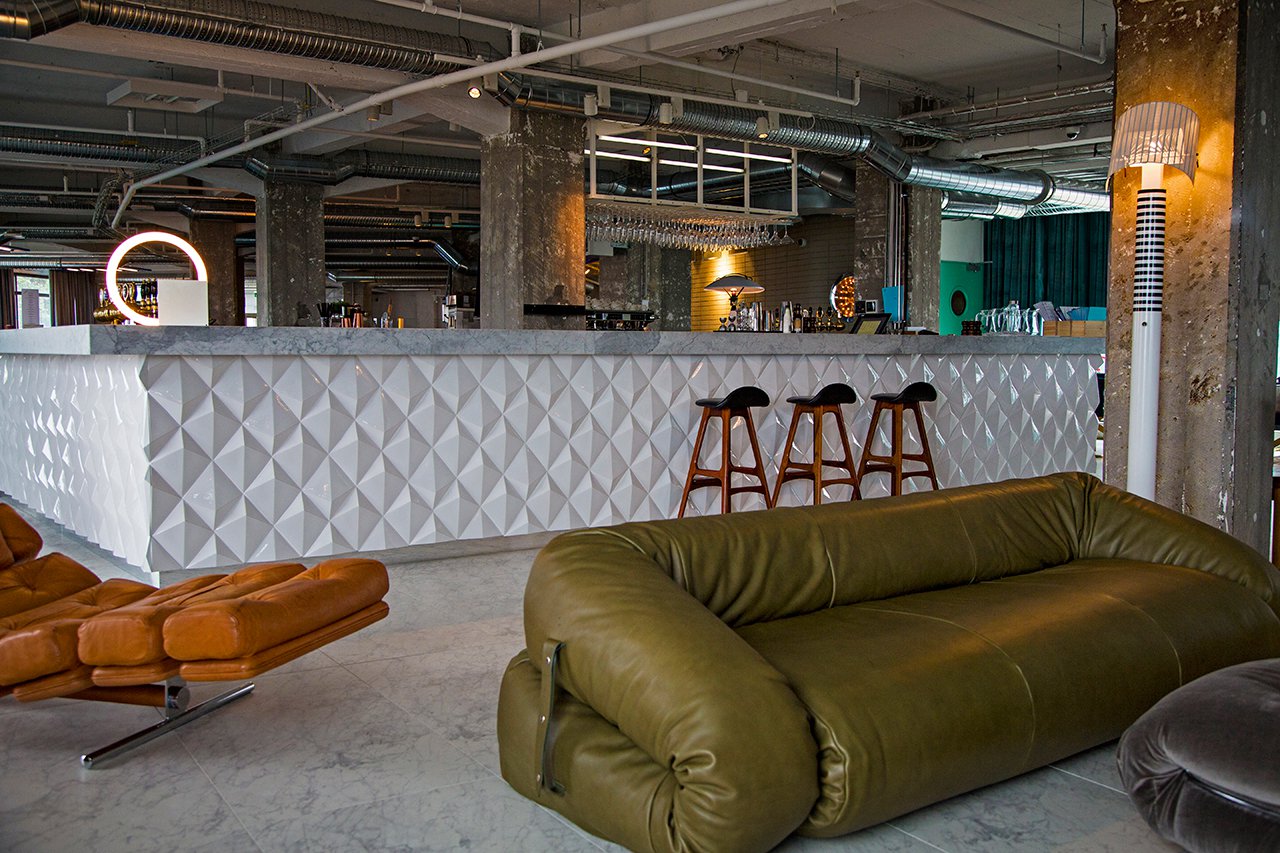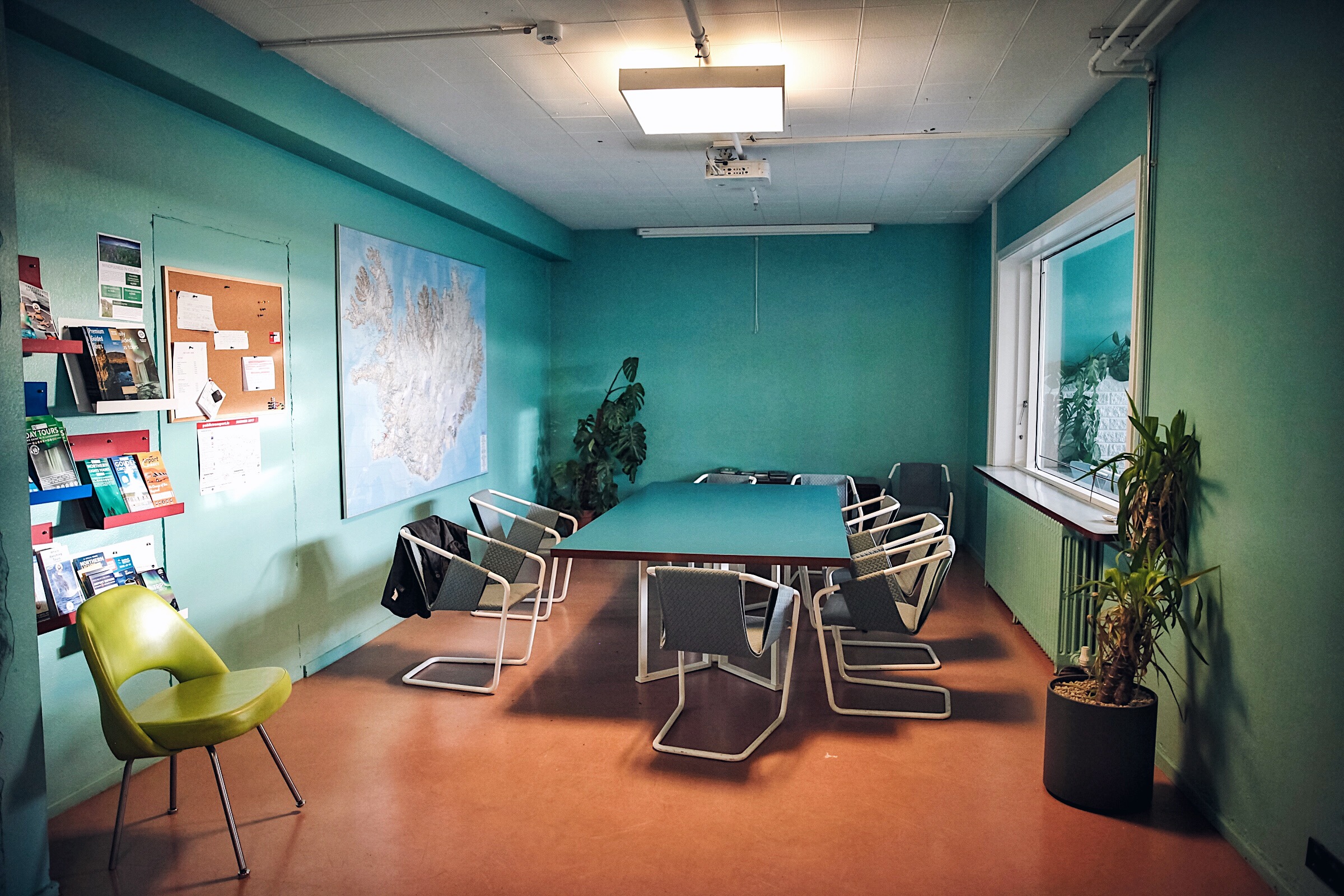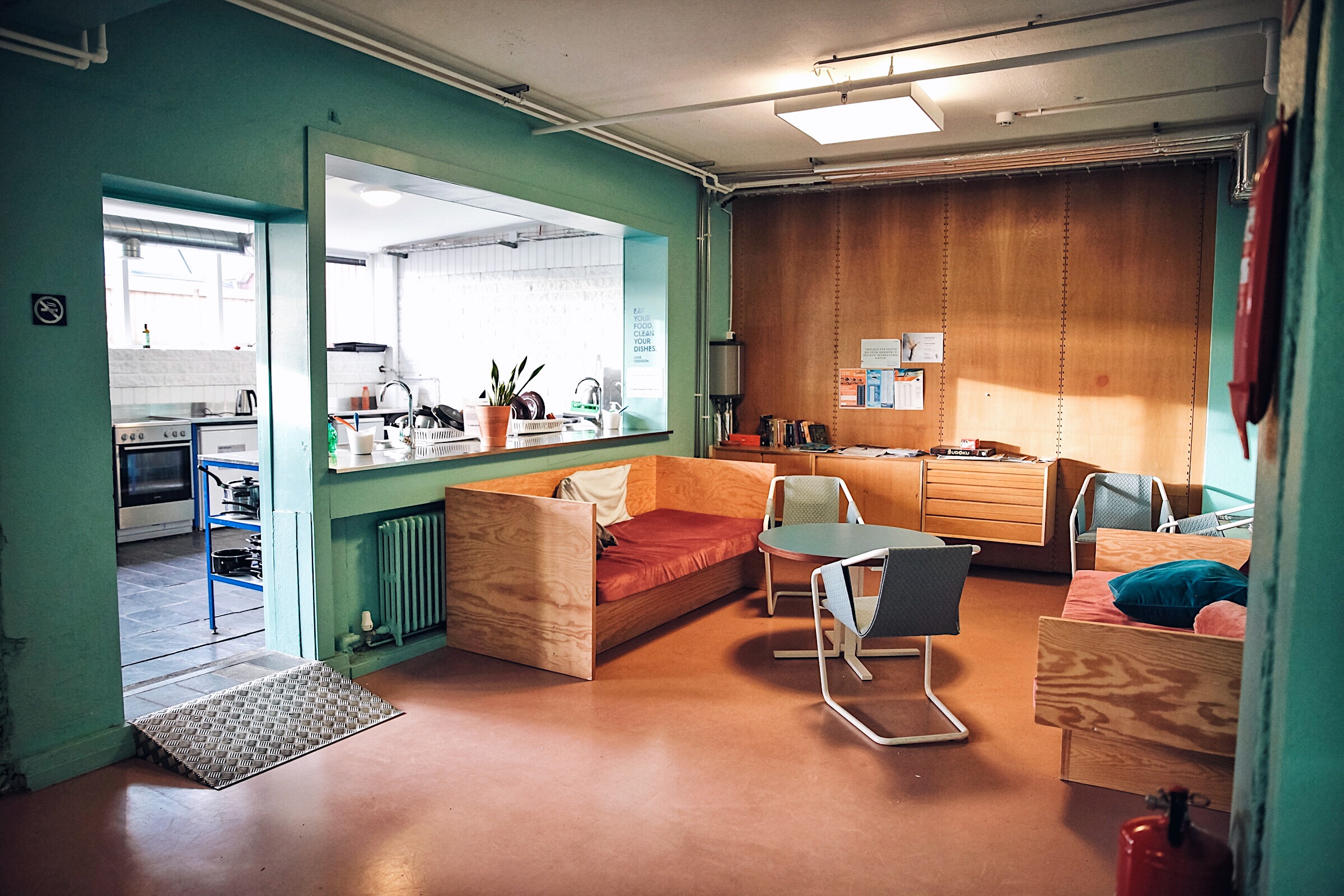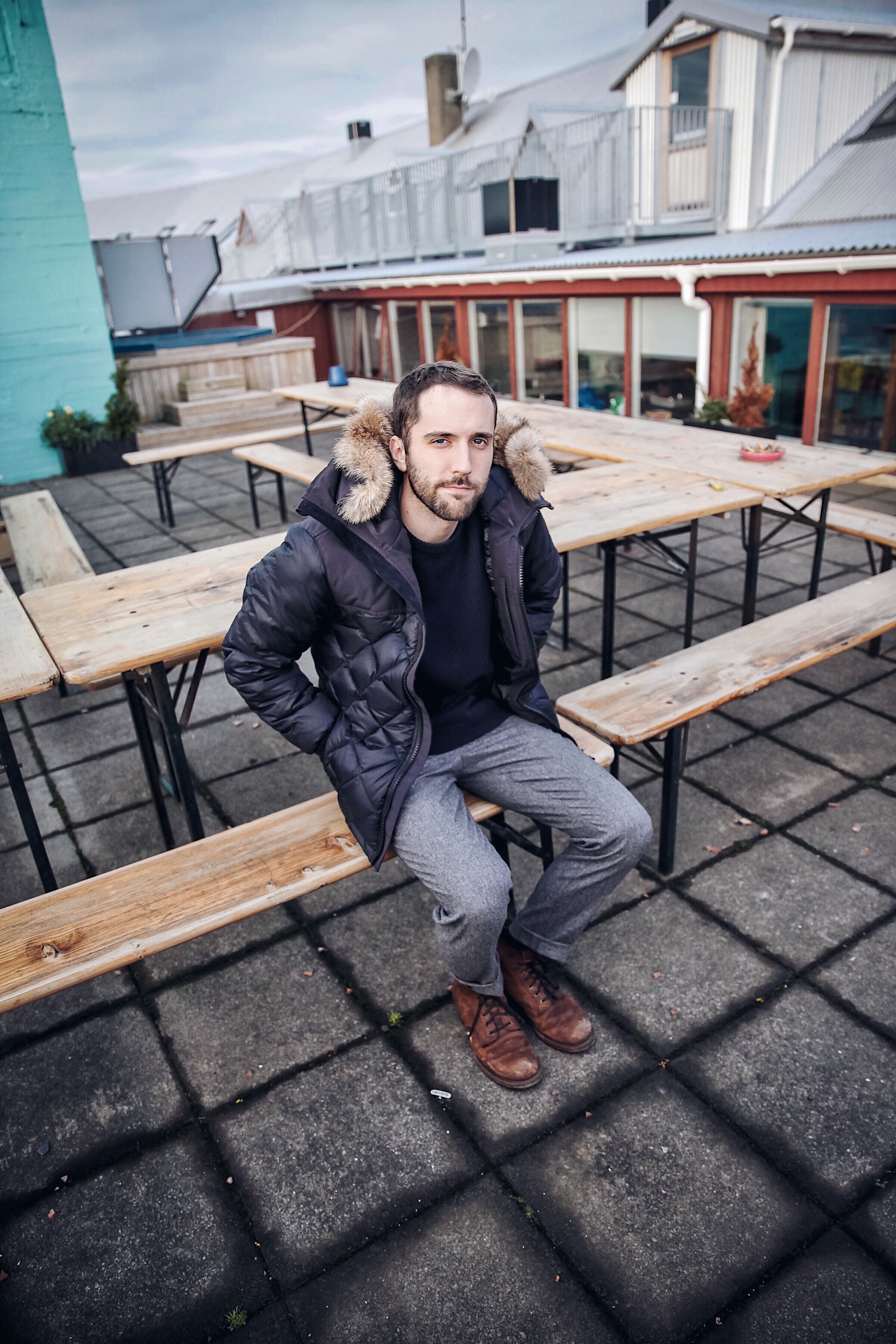 ·
So those were our two stays in Reykjavik, Iceland courtesy of Hostelworld.  I definitely think it was the right choice considering how comfortable the rooms were.  Not much different than staying at a hotel if you ask me, but with the advantage of being more affordable so you can see and do more at your destination.  If you're looking to book a place to stay when traveling in Iceland, I'd highly recommend the LOFT and ODDSSON hostels.  Next up, stay tuned for a full recap of our 6-day itinerary where I'll be giving advice on what to see and do in Iceland!
---