A Quick Tour Of My East Village Studio Apartment
Happy Monday guys!  This week I'm starting off with something a little different than my usual outfit posts.  This past January I began my apartment search which was no easy task, especially in Manhattan.  My must-haves for the apartment were separate living/sleeping areas, a desirable East Village location, and an under $2500/month budget for rent.  After looking at 31 apartments in 10 days (literally kill me), 2 devastating rejections (I cried both times), and countless hours of stress and frustration (god bless that stress pizza), I finally found an apartment that was perfect for me!

---
The Small Space Solution
In the 9 years I've lived on my own, I've experienced almost every living situation.  I've lived in a small 1-BR in Jersey City, a HUGE 1-BR in Jersey City with a roof deck(!!!), a closet-sized ground floor studio in East Village (it was basically illegal), and the "Blogger House" with 2 fellow blogger roommates in Manhattan.  The problem of having too much stuff and not enough space was always an issue no matter where I lived, so this time I tackled it thoughtfully and methodically.
The 1-BR vs. studio apartment decision was a HUGE one for me.  For most of my search the square footage for both types of spaces was basically the same.  The only real difference is that the partition wall that wold otherwise turn a studio into a true 1-BR justified a sometimes $500 per month rental increase – no thank you!  With that in mind, I decided to narrow my search to studio apartments only.  Since privacy is no longer an issue when you're living alone, the next challenge became finding an apartment with lots of light, high ceilings, and a large rectangular layout that easily lended itself to creating separate living room and bedroom areas.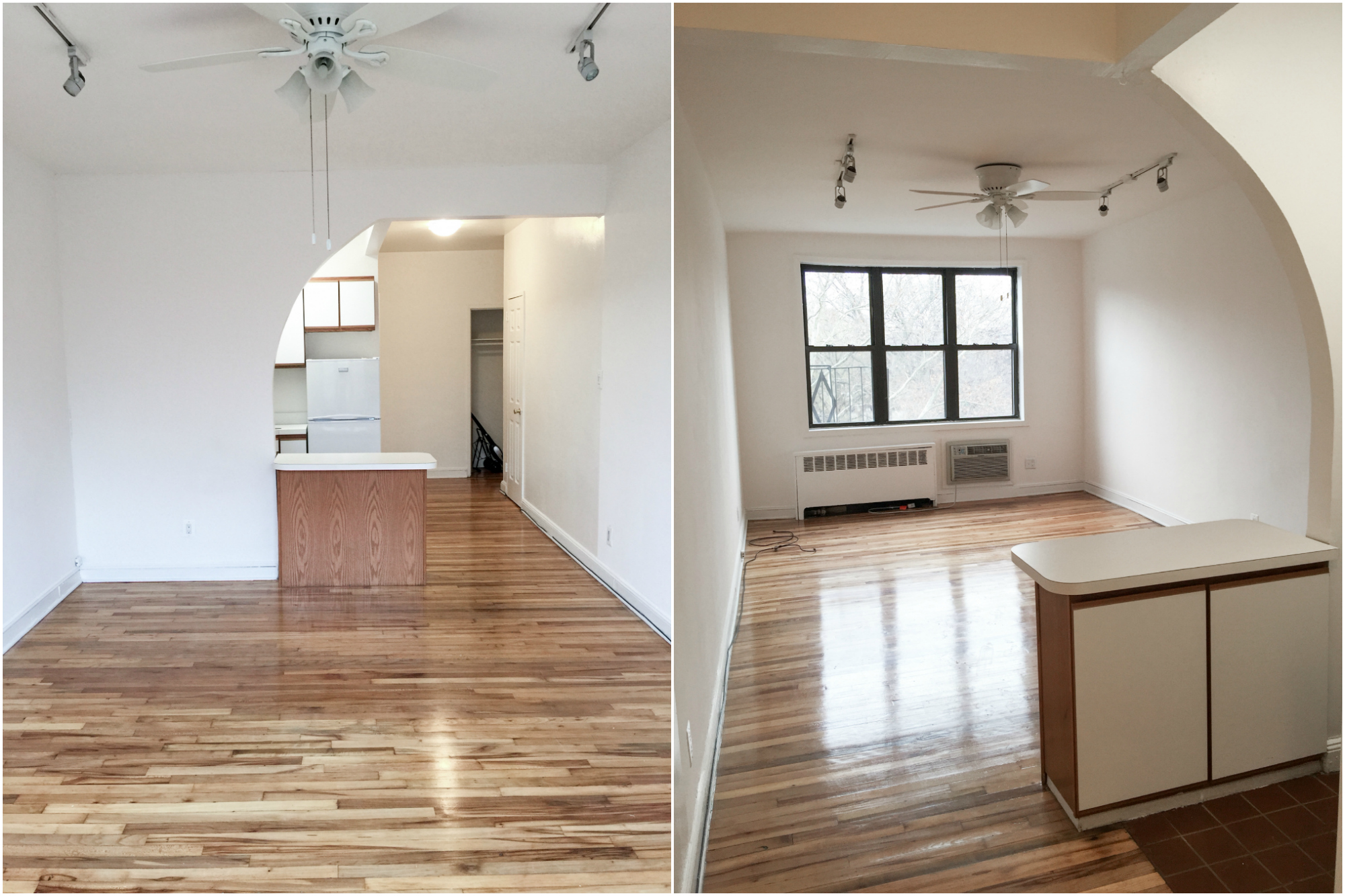 Pictured above is my new studio apartment just minutes after signing the lease!  Not much to look at yet, but as far as East Village apartments go, it was bright, clean, fairly updated, considerably "large," and HAD AN ELEVATOR.  Side note:  I love the EV but unless you're rolling in dough or have like 15 roommates most of the apartments here are sh*t.  That said, this apartment was a true miracle IMO.
I quickly began planning out my space and like any normal person would do, I measured 1000 times and then ordered, delivered, and assembled once.  Okay so that's not really normal but I was on a tight timeline.  I knew I had to get the apartment liveable before a busy NYFW only three weeks away and with a 5-day work trip scheduled during that time as well, I was basically going crazy. This would've made a great episode on an HGTV makeover show TBH.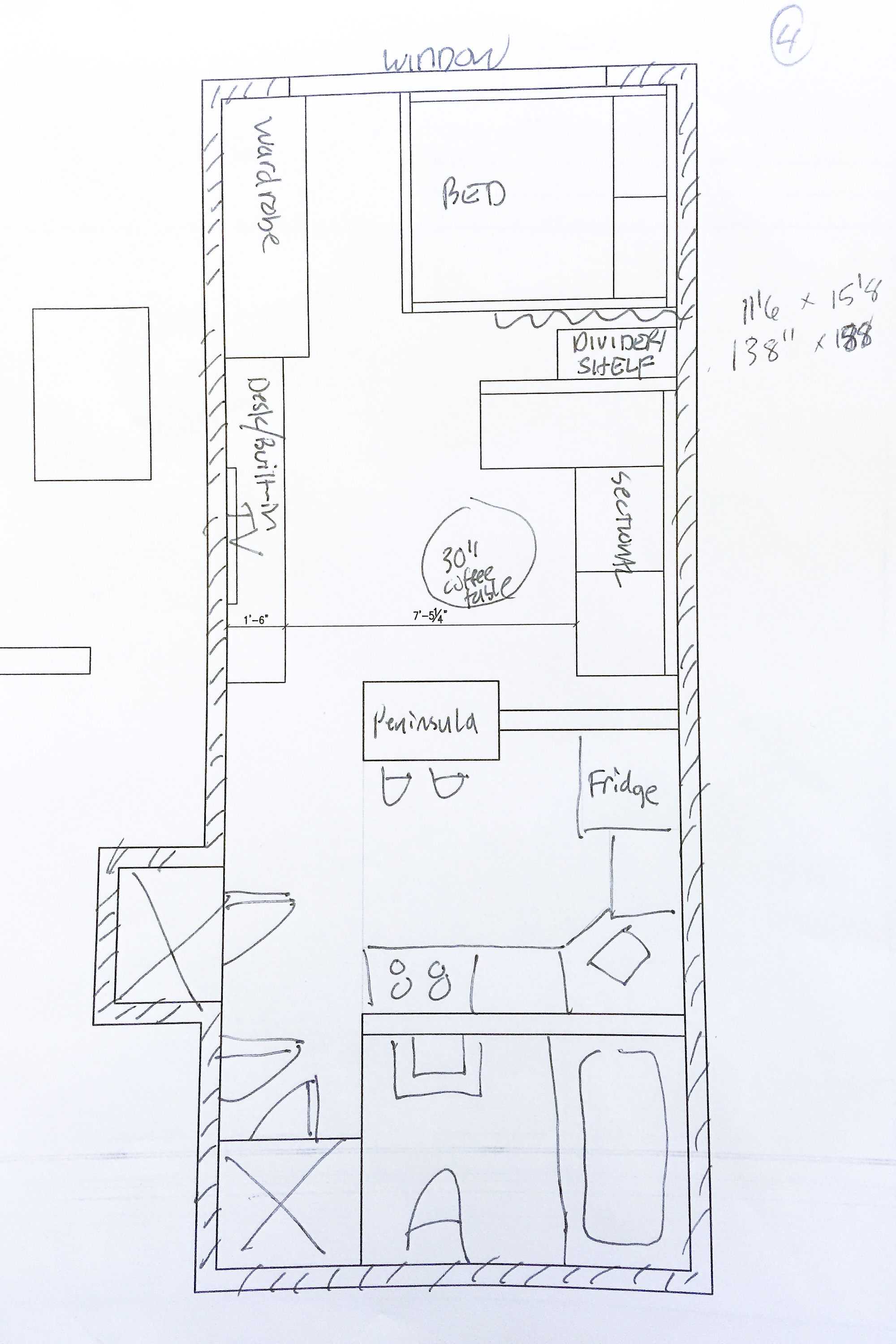 Above is a quick floorplan I drafted to scale-ish to get an idea of how I wanted to use my limited space, and it also came in handy when for putting together a shopping list of all the furniture I would need and could fit (v important!!).  No one wants to get stuck with the annoying process of trying to return oversized items like furniture.  Once I was happy with the layout, I went a step further (I'm actually crazy) and taped out the furniture plan.
TIP:  Look online for dimensions of furniture you plan to buy.  Once it's taped out you can walk around the space and see if it feel spacious and comfortable.  And remember that items will have height to them so if it feels cramped in 2D, it will feel more cramped in 3D.  This tip actually helped me downsize certain furniture pieces before I ordered them and is great tool especially for small spaces like mine that don't have the luxury of space for error.  Lifesaver!
Furnishing With Style AND Function In Mind
Now that I was happy with the final layout, I had to chose the exact pieces to fill my new space.  I had no existing furniture of my own at this point and aside from some hand-me-downs from my old roommates, I basically had to start from scratch.  I knew storage was going to be the main challenge for me and even with two decent closets already in the apartment, the fact that I'm a low-key hoarder, especially with shoes/clothes, meant that every piece I chose had to solve the storage dilemma.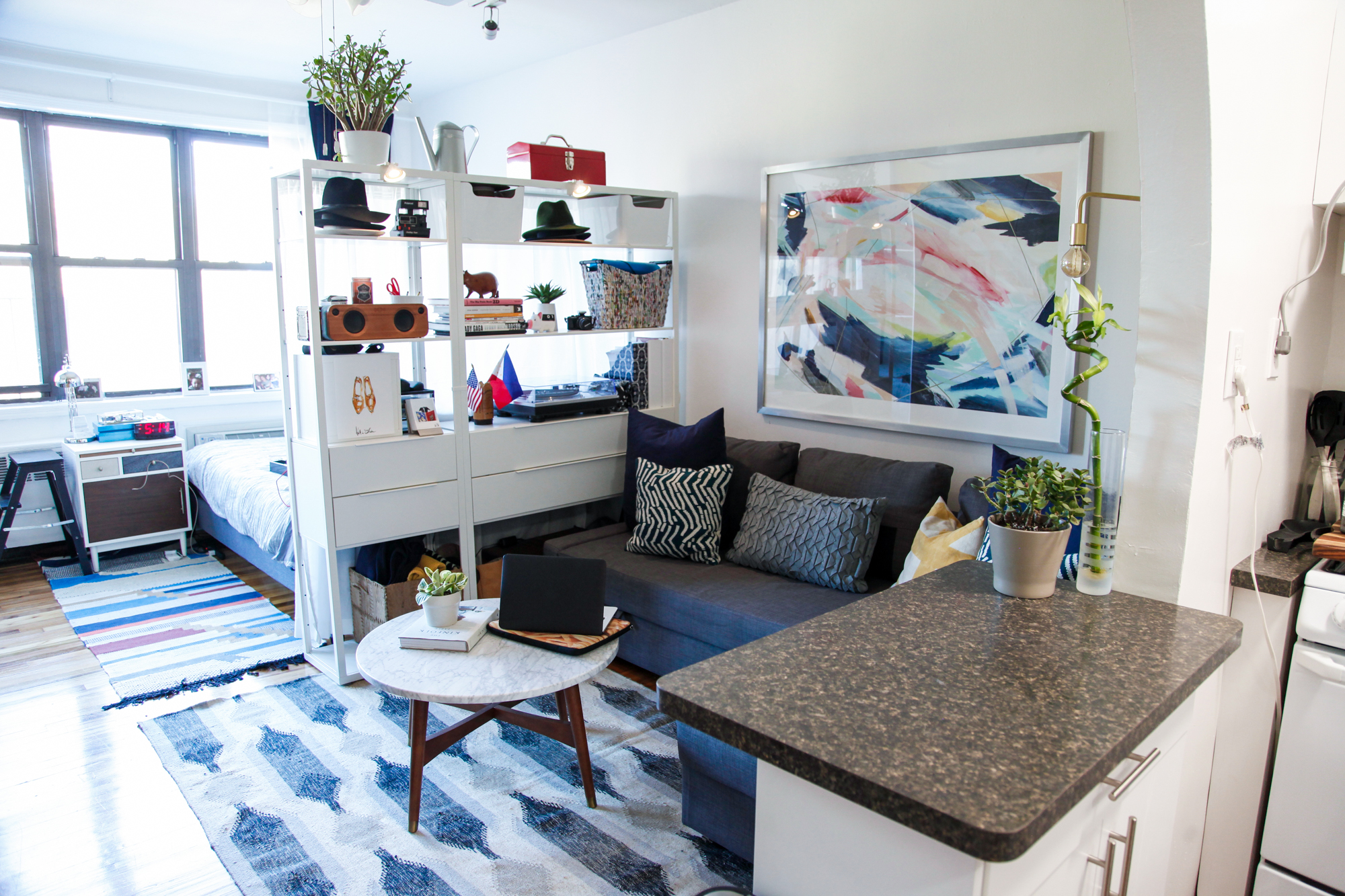 Divide & Conquer
In order to create two distinct and sperate areas for living/sleeping I purchased an open shelving unit from Ikea.  This one in particular could be customized with drawers which I loved!  Because I didn't have room for a dresser, I acutally keep my socks and underwear in these drawers (LOL!) but whatever works to be honest. This is also coming from someone that used to store hats in a stove (FACT).  The other great thing about this shelf is that because it's open (no laminate back panel), it allows light to filter through to the rest of the apartment.  I hung sheer curtain panels on the back of the bookcase for extra privacy in the bedroom area when I have guests stay over on the couch, but these can be easily pulled back for more light.

Do What Works For You
When it came to designing my living space I had to think long and hard about what I really wanted verses what I really needed and was practical for me.  Ideally I would have loved to have a dining table to seat guests and a desk to do my work but at the end of the day it just didn't make sense.  For one I rarely cook, and if I did my friends wouldn't eat it (true story), so the dining table idea was clearly out.  As far as a desk, it was budget that mostly restricted me.  I totally have space for a small desk but for now I'm comfortable using my laptop right on my lap.  Instead I saved my money and my space in the apartment for more practical pieces.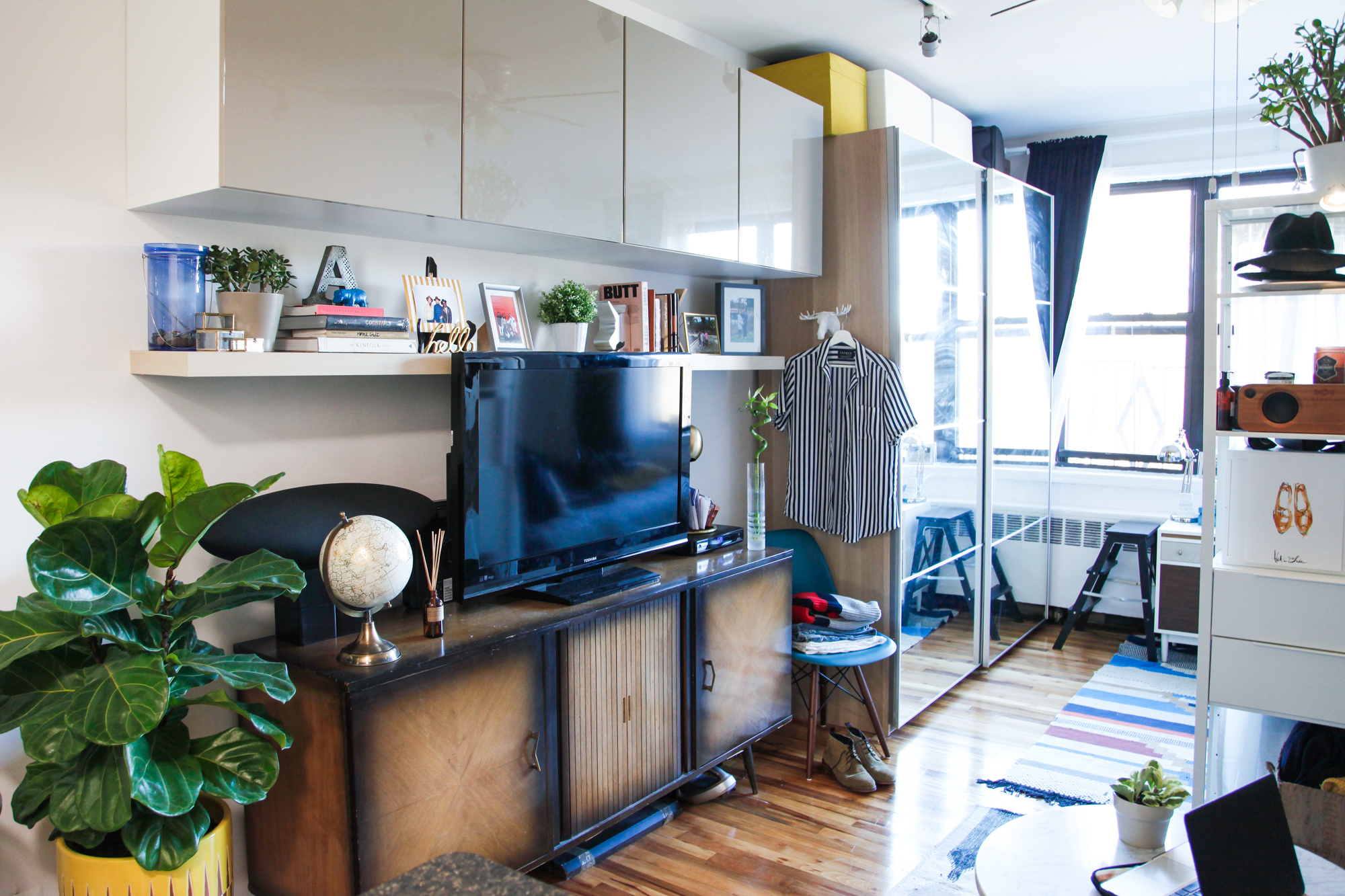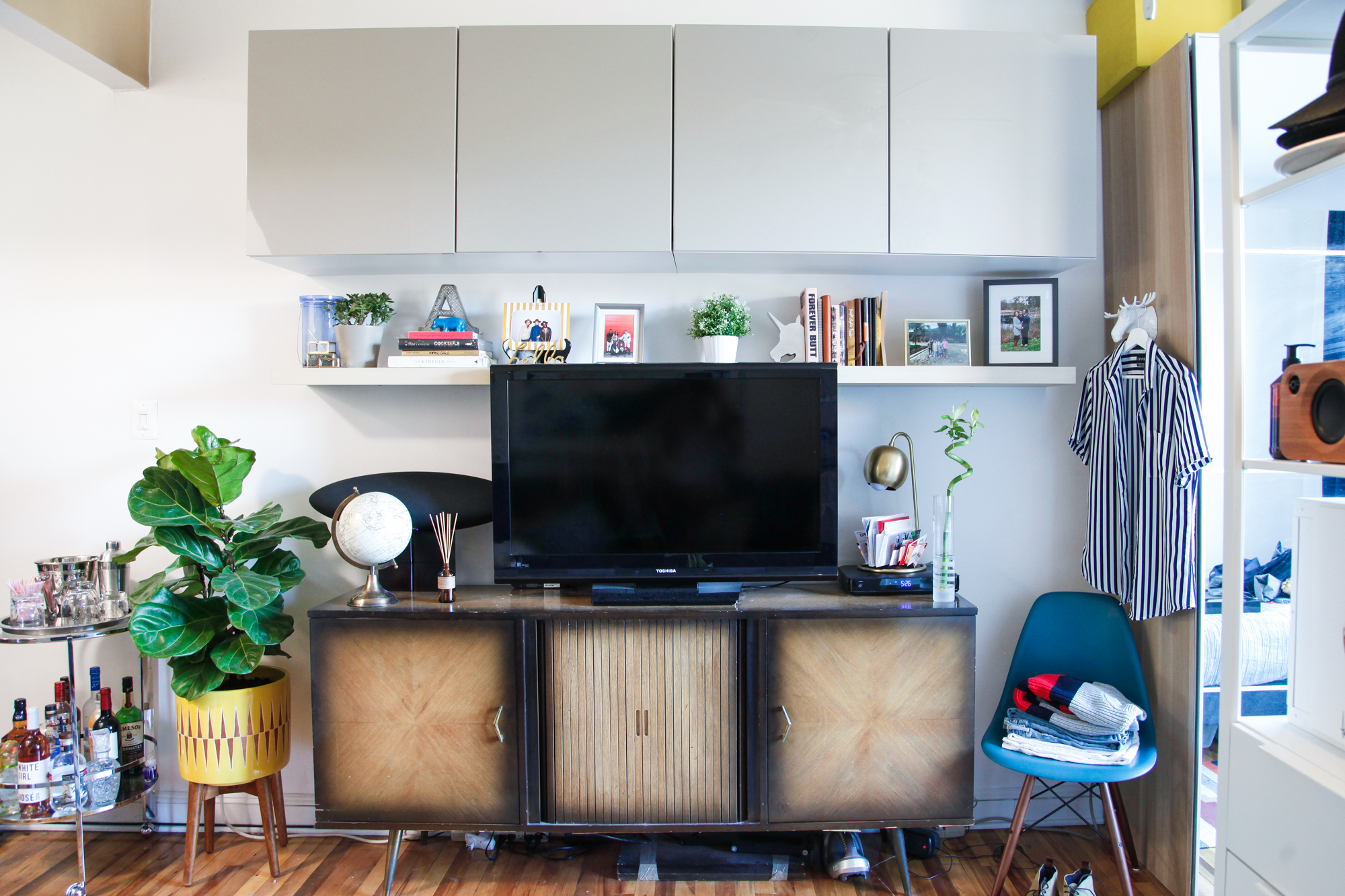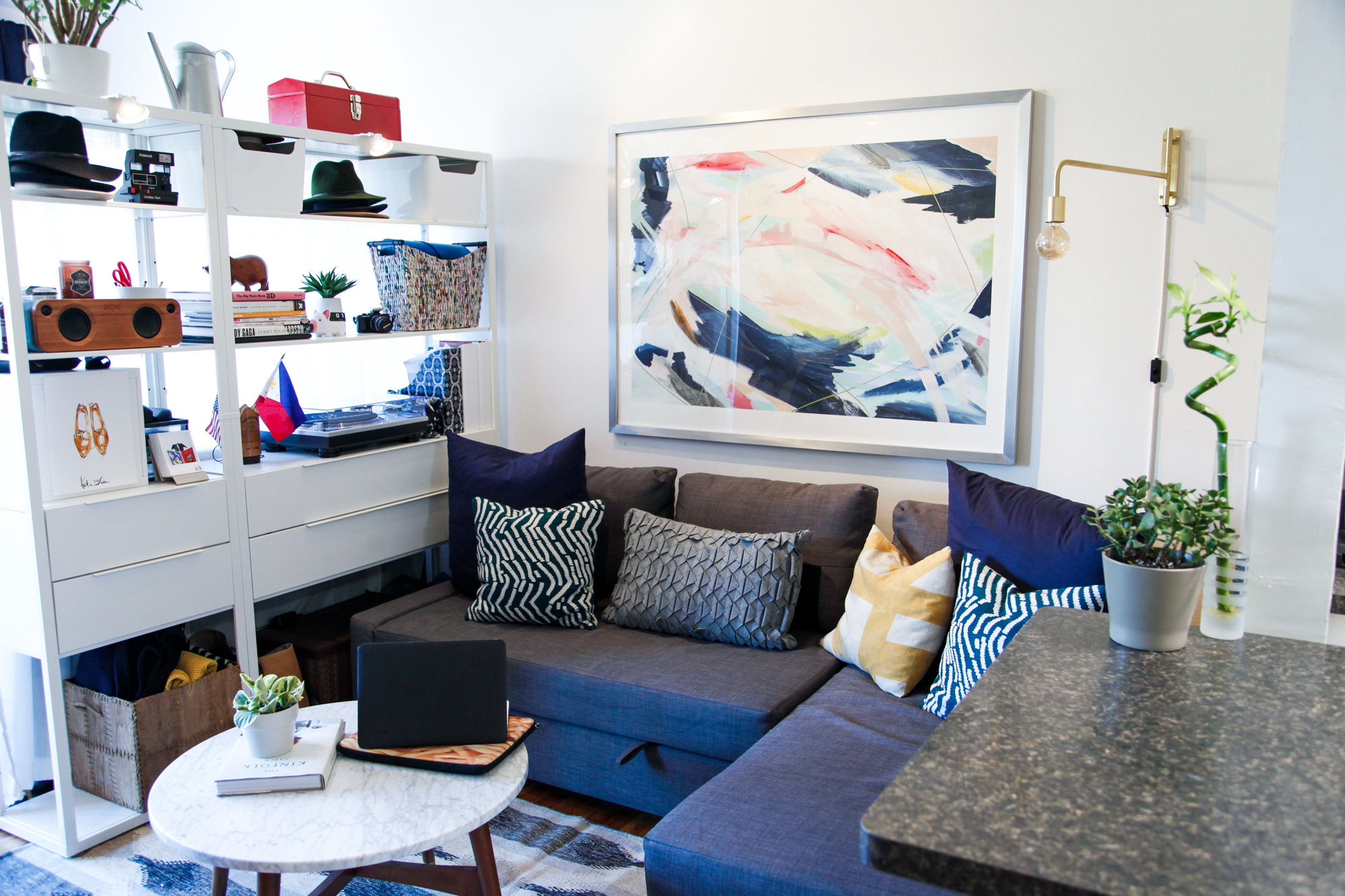 Sectional sleeper sofa with storage – I can store extra blankets and pillows for overnight guests and visitors.  Not to mention it makes an awesome bed for Netflix binge nights.
Wall cabinets and a media console – I originally would have placed a desk here, but now this wall opens up more space for tons of storage which I desperately needed.
Coffee table & bar cart – Who was I kidding about throwing dinner parties?  Most nights I'll just throw a pillow on the floor and eat my takeout on the coffee table like a regular adult…  And when it comes to entertaining friends, it's a FACT that we will get more use out of a bar cart than a dining table, but that's just my life.

Life On Display
When it comes to decorating, most of what I have on display are practical personal items that need storage anyway.  I've left more aesthetically pleasing belongings like books, plants, souvenirs, electronics, and even hats on open shelving, while my more cluttered looking "things" get stored away in bins or inside cabinets (which is totally fine because I LOVE containers way more than any man should).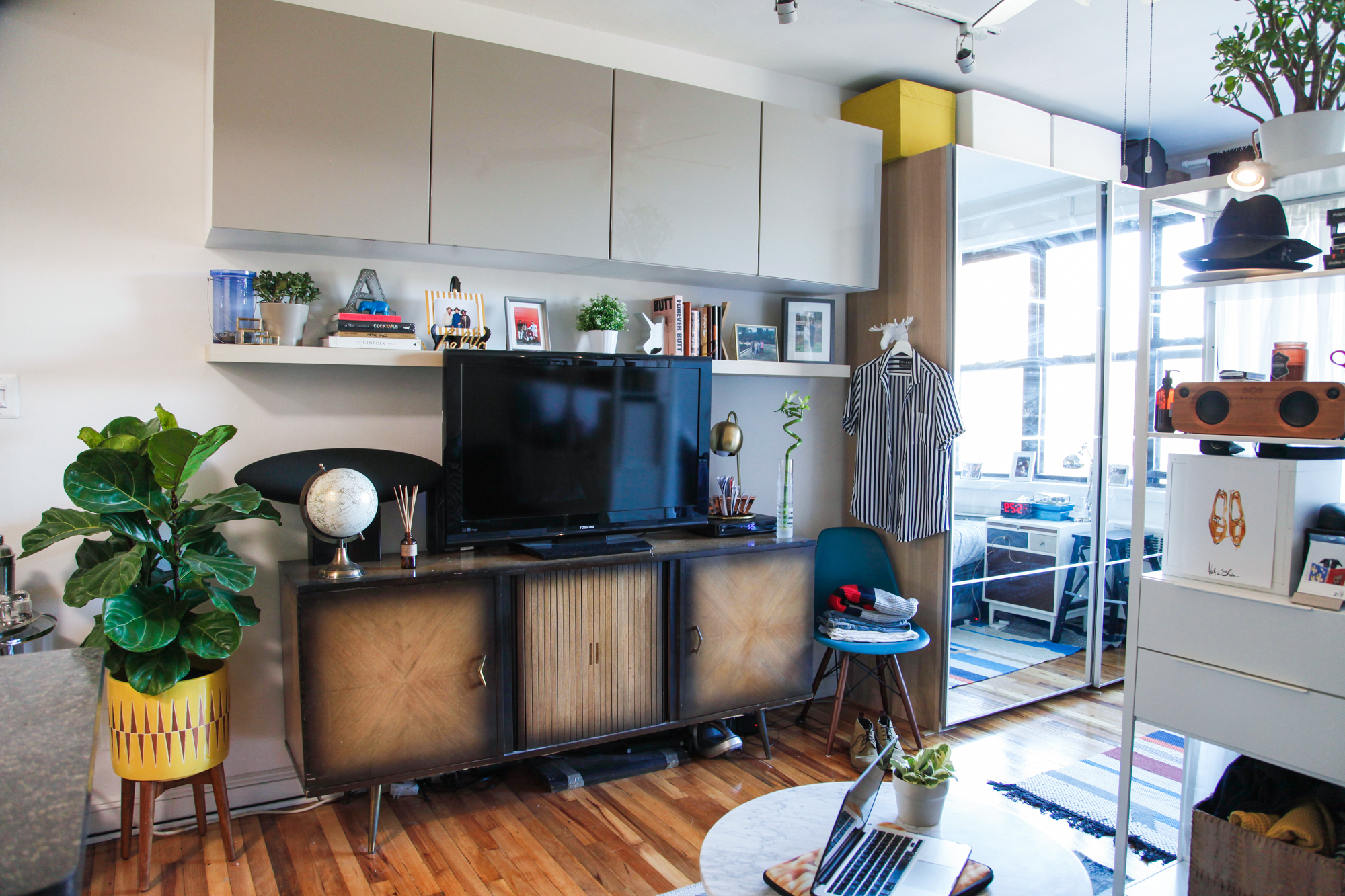 For my white walls, I dressed them up in two ways.  Because of the unique arch featured in one wall of my studio, I decided I wanted to add some color to it to make it stand out even more.  For this wall I used TemPaint's peel and stick adhesive removable wallpaper in a netural beige color.  The best part about this is that there's no mess and you don't even need to buy any painting supplies like rollers, handles, or paint trays.  I will say it does take a little patience and practice to line up the adhesive panels but it will also save you the headache of painting your walls white when you move out because you can just peel it off.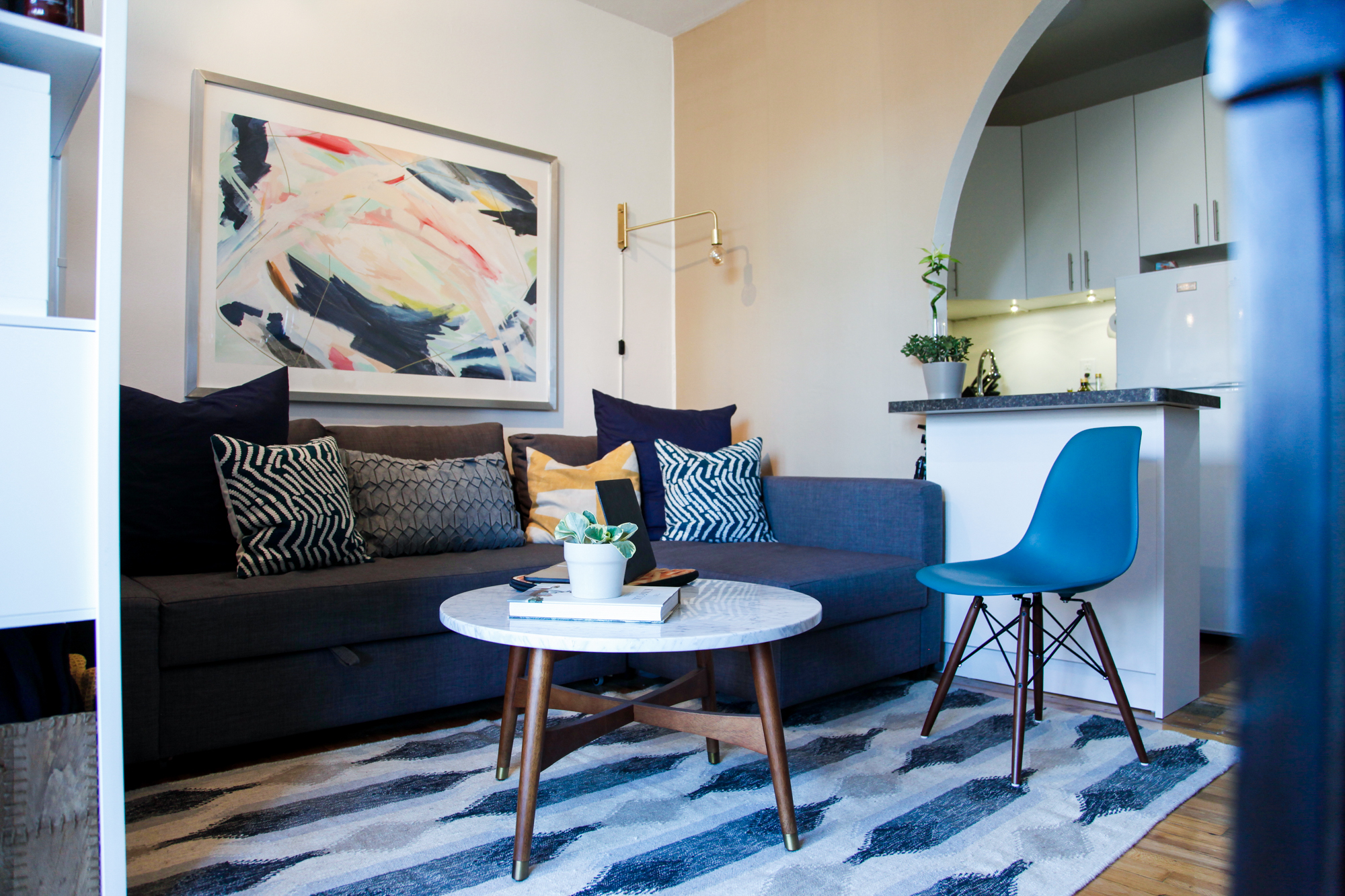 The other way I dressed up my white walls was with artwork.  I opted to go for a large scale print instead of a gallery wall above my couch for two very practical reasons:  less frames to hang and less prints to pick out.  Hey – just keeping it 100 with you.  If you're interested in checking out some cool prints for your space, then definitely check out Minted.com where I got mine.  They have a ton of great prints (framed or unframed) by a rotating selection of contributing artists in any style to suit your space. Some of my favorites are below.

A Daily Retreat
The bedroom area of my apartment is still very much a work in progress but the photos above show its current state.  I still plan on installing a new mobile chandelier over the bed and hanging some artwork on the walls which I swear I will get to…eventually.  The main thing I wanted to accomplish here was just to create a relaxing space.  When I'm in bed I want to turn my mind off from stress so I faced the headboard towards the large front windows so I can wake up to the sunlight every morning and also so I can't see the TV in the adjacent room.  Speaking of my bed, I was able to upgrade to a queen size bed since I moved into a bigger space.  I can't even begin to tell you how comfortable my Helix Sleep mattress is.  Literally like sleeping on clouds! The best part too is that it is totally customizable to your sleep preferences and shipping and delivery is so painless.  It came in a cool helical tube that was easy to maneuver.  Once you open the box the mattress unfolds and fluffs up like magic! If you're looking for a new mattress Helix Sleep is definitely the way to go.
It's been 3 months since I've settled into my new apartment and although I still have plenty of home projects I want to complete, for now I'm really pleased with the results.  I'd love to know what you think of this post and hear your stories on apartment hunting and making a home.  Do any of you have similar small space apartment problems?  What kind of solutions did you find for storage and decorating?  What tricks do you use for dividing spaces?  Let's get the discussion going in the comments below!  Cheers guys!
---