A Hair Styling Tutorial Featuring Old Spice
Old Spice Pomade  //  Old Spice Putty

---
Just like everything else I do, when it comes to styling my hair I'm a complete perfectionist.  But that doesn't mean that perfection has to come at the cost of spending hours in front of the mirror.  Who has time for that anyway?  That's why this month I've partnered with Old Spice to show you how to style a quick and easy pompadour that any guy can pull off.
Grooming Tools

Aside from a fine-tooth comb, you'll need a blow dryer, round brush, and hair pomade or putty.  I used Old Spice's classic pomade on my hair for its medium hold, matte finish, and clean-cut final look.  Added bonus – it smells great too!
I should also take this time to mention that your haircut matters a lot here too.  I get mine cut with a medium to high fade using a 1/2″ guard on the buzzer at its shortest length, and then leave the top long, about 3″-4″.  As long as you have some length up top you should be able to style your hair this way with ease.
Step One
Towel dry your hair right after a shower so there's still some moisture.  Then comb your hair back so it's not messy in preparation for applying hair product.  I actually comb mine back and to the side because I wear a side part with my hairstyle but if you don't do a part, combing to the back works fine.
Step Two
Using your Old Spice pomade (or hair putty), take about two fingertips worth of product and using both hands mix it together in your fingertips until it's evenly distributed.  Now run your fingertips over and through your hair from front to back so you get the product evenly distributed in your hair.  Then take a fine-tooth comb and comb the product through your hair while also starting to style the pompadour.
Step Three
Now with the product evenly through your hair, use a round brush and comb your hair back while blow-drying in the same direction as you brush.  As you brush, roll the brush up and to the back to add volume and height to you hairstyle.  The heat and brushing will start to form the shape of the pompadour.  Continue doing this until your hair is dry and product looks matte.
Step Four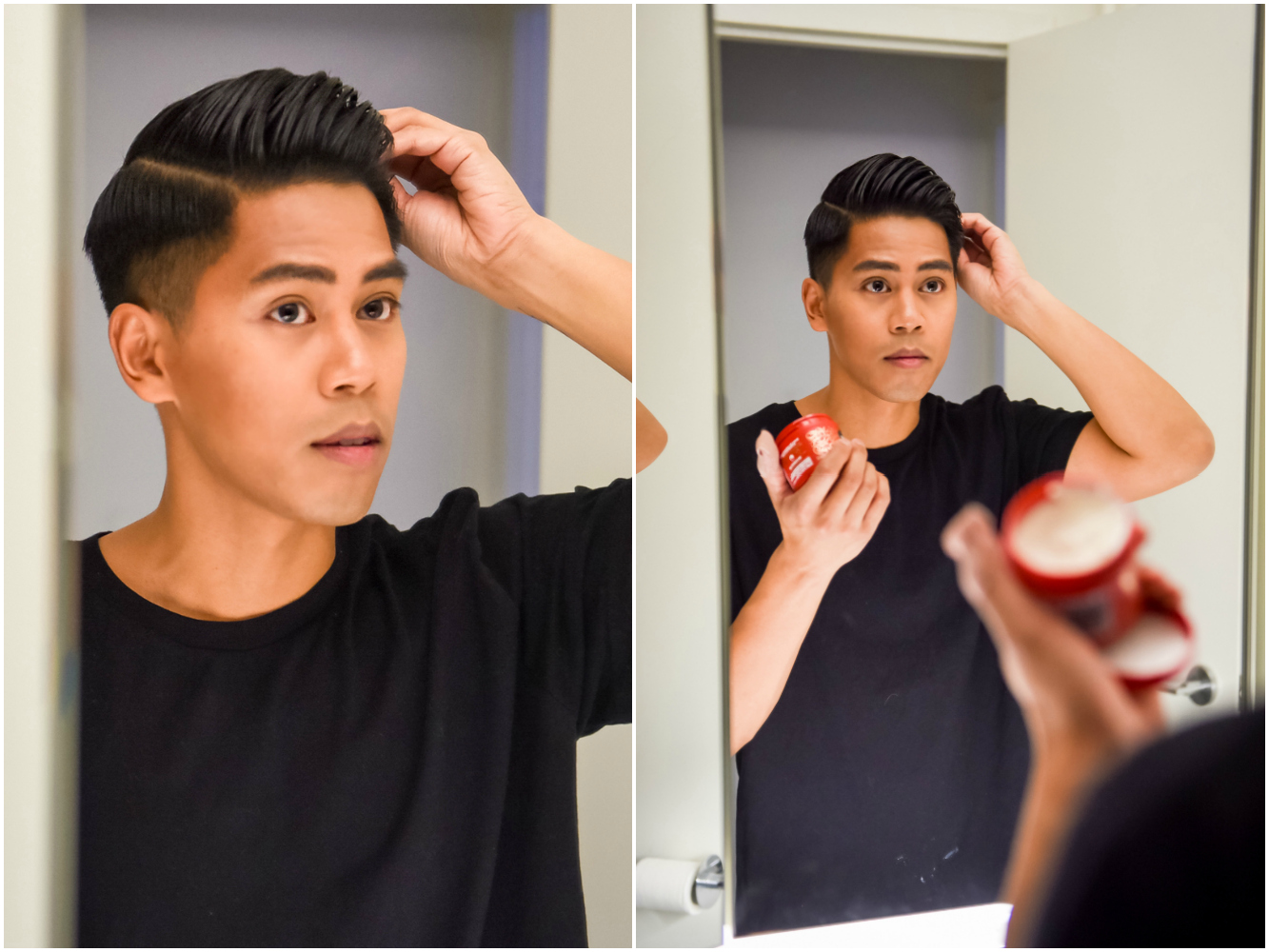 At this point the product and blow-drying should have formed the shape of the pompadour so using your hands, just style and shape your hair by pulling it backwards and upwards to it's final shape.  Feel free to add extra product as necessary to create your desired look.  If you want a stronger hold, lightly spray your finished style with hairspray to set it.
Step Five

Go out and show off your pompadour with confidence! =)
Now that you have my tips and tricks for styling the perfect pompadour, do you think you'll try this hairstyle out for yourself?  Let me know in the comments below and feel free to share your hair grooming tips as well!
Old Spice Pomade  //  Old Spice Putty

---
This content was sponsored by Old Spice but all thoughts and opinions are my own. I hope you enjoy following along! #ad